Helen Bradley's work has taken some knocks over the years, not helped by one author who omitted her from a book on Northern Art and discounted her work as a "Lowry copiest". To me, this was a great shame and demonstrates a fundamental misunderstanding of the artist and her work. It's easier to count the ways that her and Lowry's work are similar than the ways they are different as the differences vastly outweigh the similarities. The only similarities her work has to Lowry is that they have large groups of figures set against a Northern backdrop.
Helen (Nellie) Layfield was born in Lees Lancashire in 1900 to a large and successful family. Although Christened Nellie by her Father, who named her for a famous Opera Singer he admired, she hated the name and wanted something more normal, so she chose Helen. One side of her family were tailors whilst the other side was Hosiers. They were a tight nit family, although as in any family unit disagreements were common but quickly rectified. Helen went to Oldham Art College at the age of 14, in spite of her Father who had forbade her from studying painting or anything which focused on the human body. Helen instead studied Jewelry design, which satisfied both her need for creating things and her Fathers principals. It was at Art school she met her future Husband Tom and they became acquaintances. When her time at Art School finished, it would be a few years later that she would meet up again with Tom. Serendipity had them join the same Golf Club and they rekindled their friendship and after several years of courting would become married in 1926.
In the formative years of Helen's artwork we can see that she wasn't very well supported, she was also at a loss as to which direction to go with her paintings. She saw the paintings of Dutch Artist - Hendrick Avercamp at the National Gallery in London and was mesmerised by them. If you look at this example of the 17th Century artists work, you can see major similarities of concept and compositions to that of Helen's paintings.
This particular image shows many figures in an almost hectic and crowded scene but each figure having its own narrative. Helen would try to work with landscapes but would go on to feel that something was missing.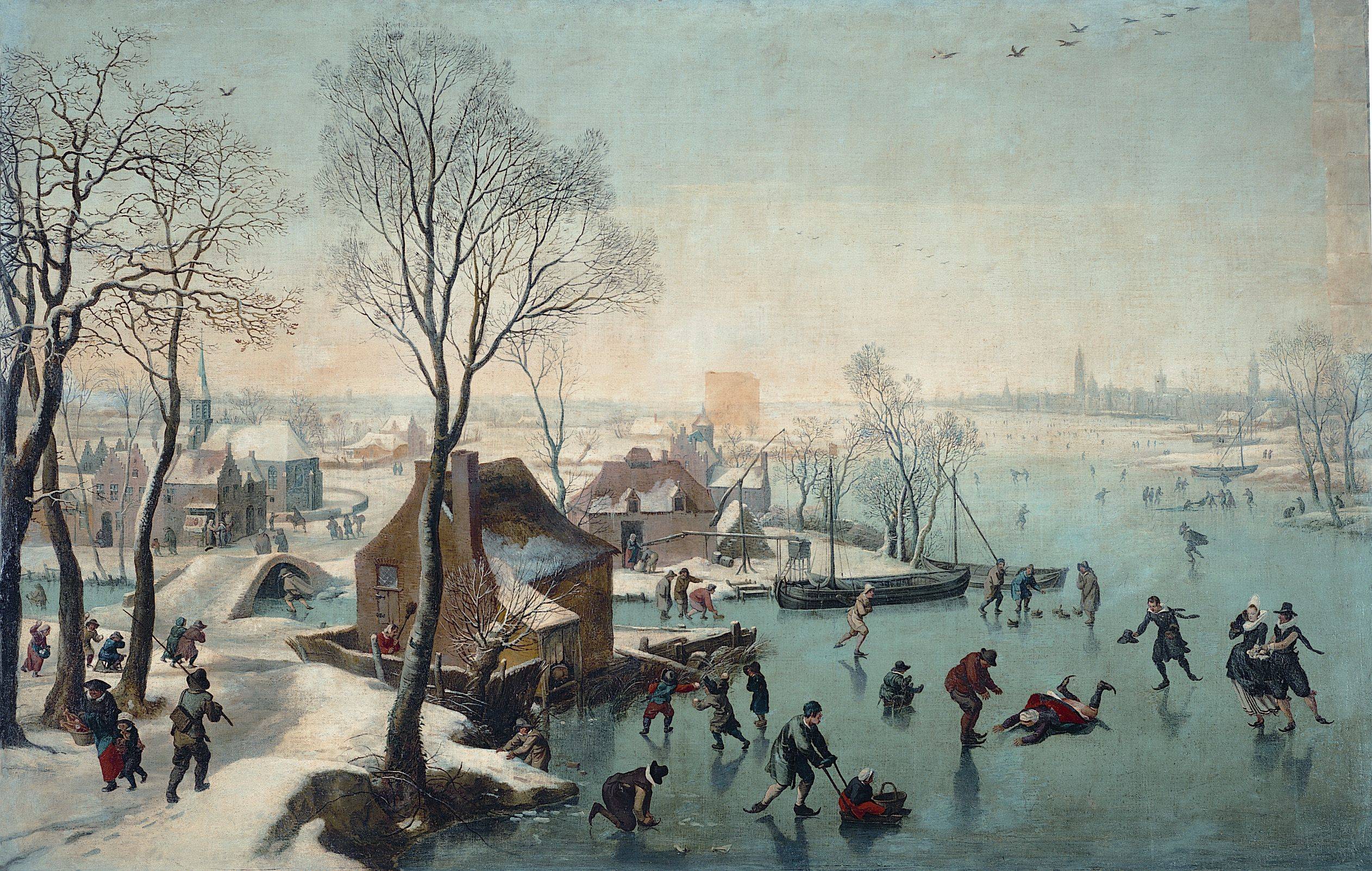 https://en.wikipedia.org/wiki/en:Hendrick_Avercamp
She was also very taken by the paintings of the Indian Mughal period, these paintings were another part of the jigsaw of her work. She loved the flattened and shadowless images of these paintings along with the bold colours and the special detail to the clothes and fabrics.
As can be seen by this Painting of a wedding it's very much an occassion similar to many of Helen's paintings, it celebrates a moment, and although the Mughal period paintings can fluctuate from the fantastical like this wedding with Elephants, all the way to the simplicity of two lovers in an embrace, despite the variance in content the paintings are no less charming.
There is another major influence to Helen's early work and that is the Chinese artist Tao-Chi who painted stunning watercolours in a style he iconised as 'One stroke painting'. He worked in watercolours and a very spiritual Buddhist style. Here's an excerpt from one of his writings:


Tao Chi said: "When the brush is united with the ink, yin-yün (cosmic atmosphere) is created. When yin-yün is undivided, it is like chaos. In order to open up chaos, what else should I use except the 'single stroke'? Even if my brush is unlike the usual brush, my ink unlike the usual ink, and my painting unlike the usual painting, there is always my own identity in it. It is I who use the ink, the ink does not use me; I who wield the brush, the brush does not wield me; I who grow out of the womb, the womb does not discard me. From one, ten thousand thing come, yet from ten thousand things I must come back to one. By transforming the 'single stroke' into yin-yün, all things under heaven may be accomplished" (Hua-yü-lu, chapter 7).
The ethos and style of Tao-Chi's work gave birth to a series of figureless watercolour paintings by Helen from the 1960s of which we currently have one for sale.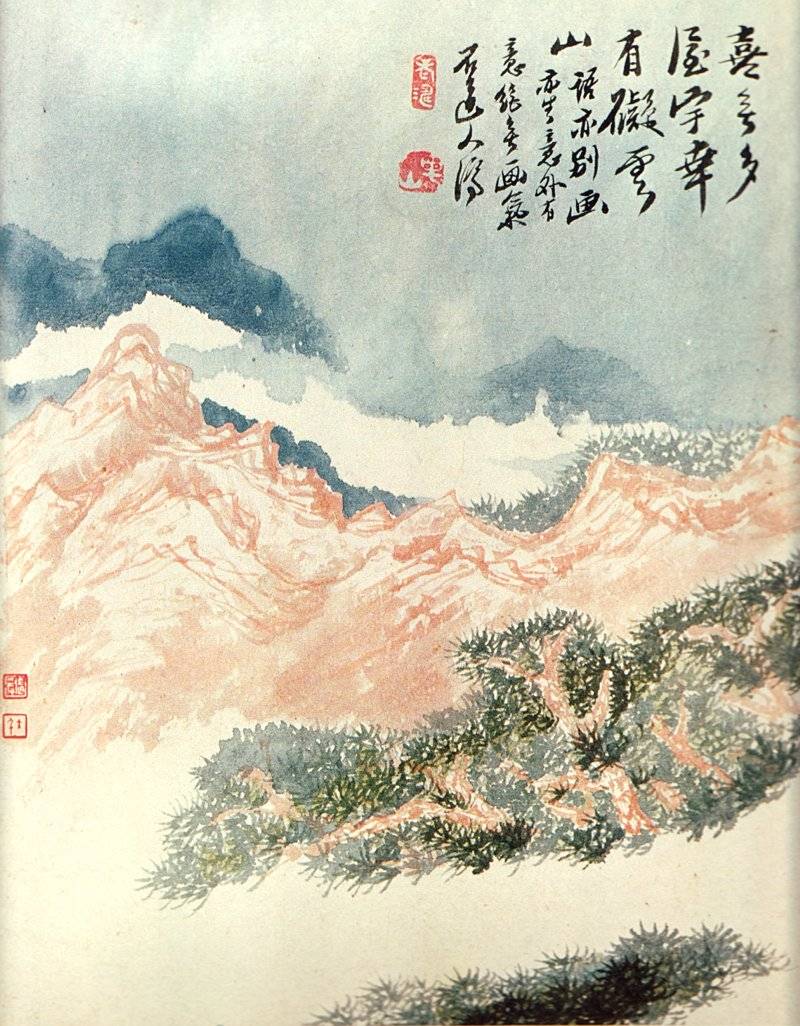 Tao Chi - Mountain blocked clouds
Helen was working in landscapes primarily during the 1960s and would work and live in the Lake District where she would walk and sketch and paint for much of her free time.A chance meeting with the great artist LS Lowry would bind all these influences and experiences together to create the paintings that are loved all around the world. After Joining the Saddleworth Art group Helen was engaging with the members but not showing her work. At a group exhibition, LS Lowry was in attendance and Helen took the chance to talk to him. She mentioned her difficulties with finding a subject that she wanted to paint and Lowry's response was sympathetic and impactful, he told her she should paint what she knew and loved, he was purported to have said to her "Paint your Mother". Which was a lightbulb moment for her. She thought about her childhood her family and the narrative surrounding ever day out, trip, holiday, or event. This had been what she was looking for.
Eventually, she would be discovered and show in the North and in London which would begin a humungous desire from collectors to own her work. There were fan clubs in America and Japan the consumption of her work was huge, and the appreciation ever-growing.
She displayed in the Royal Academy and was taken on by a Cork Street dealer. Her work was so in demand that she allied with a printing company to produce limited edition prints and books which would go all around the world.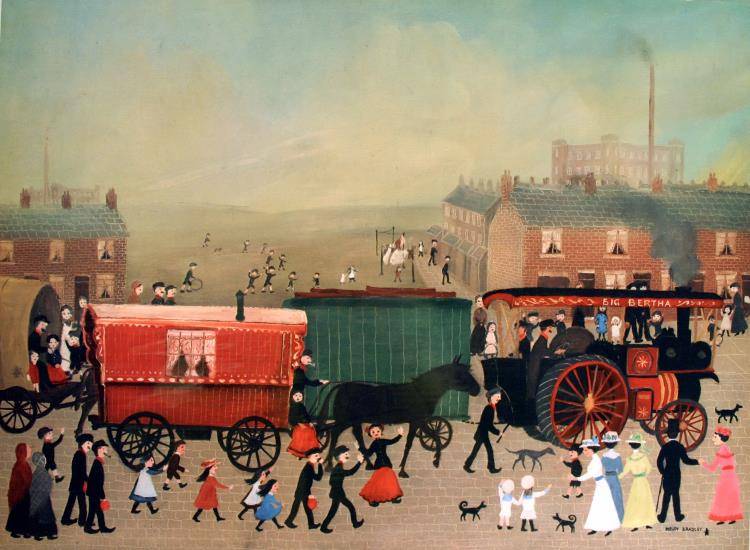 Helen Bradley - Big Bertha Comes to Lees
Available on our website to buy
In retrospect, I would disagree heartily with anyone telling me that she was a Lowry derivative artist. Her work is inspired by Dutch masters, paintings of Indian royal weddings, and spiritual Chinese watercolours. Lowry may have given her a push to paint her family, but it was one sentence and yes it switched on the lightbulb but Helen had made the bulb, screwed it in and paid for the electricity, Lowry merely flicked the switch. Their figures are different, their townscapes are different, compositions are different, colour palettes are different, the subject matter is different... honestly I could go on.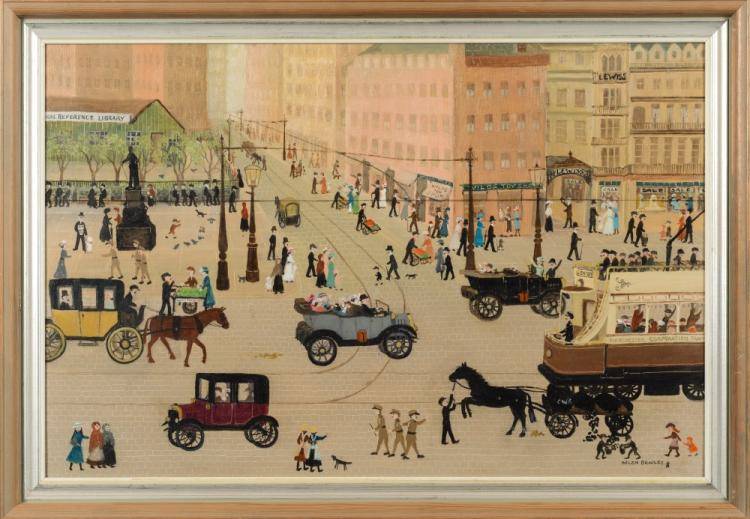 Helen Bradley - Picadilly Manchester 1915, Sold at Auction in 2016 for £115,000. Over twice its top estimate.
Let's also remember that Helen Bradly is one of the great Northern Female artists of the 20th Century. Her originals consistently do well at auction with good sized paintings now fetching hundreds of thousands of pounds. These huge sums for her work consistently out perform the majority of the male Northern Artists in the salerooms today. The competition amongst collectors certainly hasn't abated in recent years, which leads me to my final thought...
In this age of women empowerment in the arts and indeed, in all walks of life, surely Helen Bradley should be held up as someone who was repressed by her family from doing what she was great at, and forced to do other things. A treatment so deeply affecting her that she would hide her paintings under a bed. I know of a few art dealers who sell her paintings and prints today, but surely it's time some of the Northern Museums and galleries held a major retrospective of her work. She is known and loved by so many, her work is a time capsule of her childhood, it's northern, it's influenced by artists from all around the world, and although we know that there's artistic license in her storytelling it does nothing to quell the charm of her work, nor the popularity of it. I've always loved her paintings, I've collected them, sold them, and admired them and I will continue to do so.
Much of the factual material for this blog was sourced through various books on Helen Bradley but Mostly Helen Bradley's Lancashire by Ina Taylor which I believe to be the definitive work on Helen's life.
All Images are mine or taken from open sources and attributed where possible. All opinions are my own and not De Lacey Fine Art's or any other company or body.
The case for Helen Bradley - G Farmer 2019 © Copyright