Stanley Spencer caught my attention many years ago and was one of the main influences of my love for figurative artwork. A documentary was re-run on BBC2 and it created a spark of admiration that grew into an inferno. I can't be 100% sure of exactly what it was about the paintings that I was enamoured with, obviously, the quality of them is exceptionally high, the unique twist of a long established subject matter, the local interest of the figures, and most important of all - the narrative of his work.
Stanley Spencer went to the Slade School of Art in a class which would transform British Art in the most revolutionary way. His classmates were Paul Nash and David Bomberg, and although he was in London for his studies he didn't reside in the capital during this period. He would religiously take the train to and from the Slade; this earned him the nickname 'Cookham'.
Just as Laurence Lowry is associated with Manchester and Tracey Emin with Margate, Spencer loved his home town and will forever be inexorably linked to it.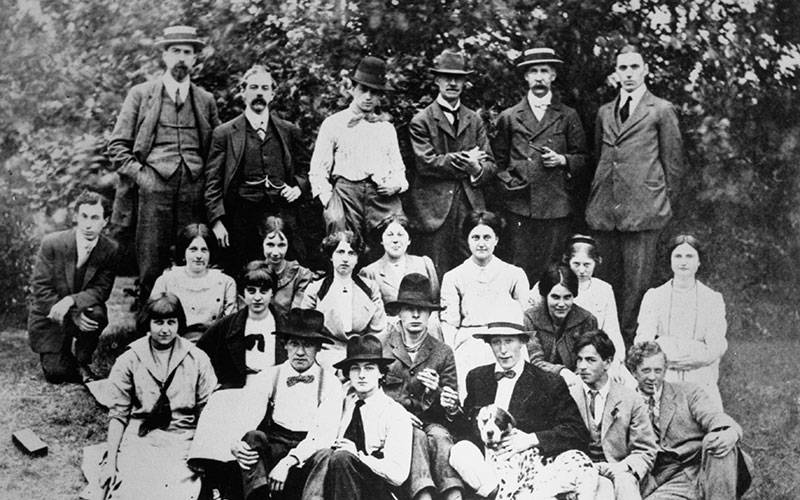 The Slade School picnic 1908 -
Stanley Spencer front row second from the right.
Spencer's early work focused mainly on religious subjects and biblical stories. This would be a well that would never run dry for him. On the advent of the First World War Stanley volunteered at the local recruitment station and was put into the Medical Corps. He was initially stationed in Bristol then was sent overseas to Macedonia. After a bout of Malaria, he was put into a regiment and sent to the front lines to fight, which he did until the Armistice. At the end of the war, he returned to Cookham but as with many returning soldiers, he was restless.
It wasn't long before an argument with his father drove him out of the family home and he took up residence with one of the Local Lords. He continued his religious paintings and caused some controversy with his version of the Last supper. This painting is incredible, the table is laid out in an 'n' shape with Christ in his usual position at the top and centre. The table is evenly spread with the disciples filling the two legs. However, because Spencer decided to use a small room and the gaps between the disciples is decidedly small. This leads to all the barefoot disciples stretching their legs out under the table and crossing their feet. People weren't sure of what to make of this, was it a foreshadowing of the crucifixion? was it some kind of sexual suggestion? These questions largely contributed to the painting's notoriety. He stayed in the Lord's house for over a year, during which time he completed about one painting per month. These paintings were all based in Cookham but were different parts of the bible. Stanley had said that he wanted to make Cookham the 'new Jerusalem'.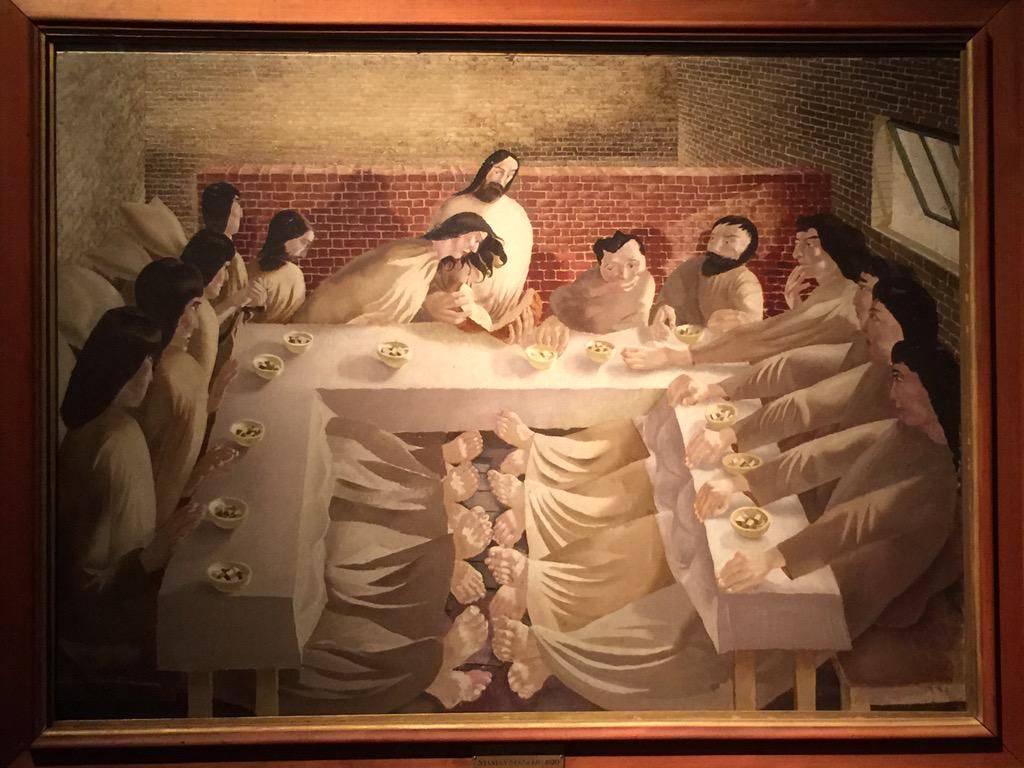 Sir Stanley Spencer - The Last Supper
Photo from Twitter user - Marcello Moretti
In 1927 Stanley would paint his masterpiece 'The Resurrection - Cookham' which would be bought by Lord Duveen - one of the most influential British Art Dealers of the period, he paid £1000 and presented the painting to the Tate for the national collection, where it has been one of their most successful inclusions ever as people from all generations have flocked to view it. The Resurrection takes place in the graveyard of the Chapel in Cookham, one critic for the Times described it as 'the most important British painting of the 20th Century' and went on to elaborate that 'it looks as if a Pre-Raphaelite had shaken hands with a Cubist.'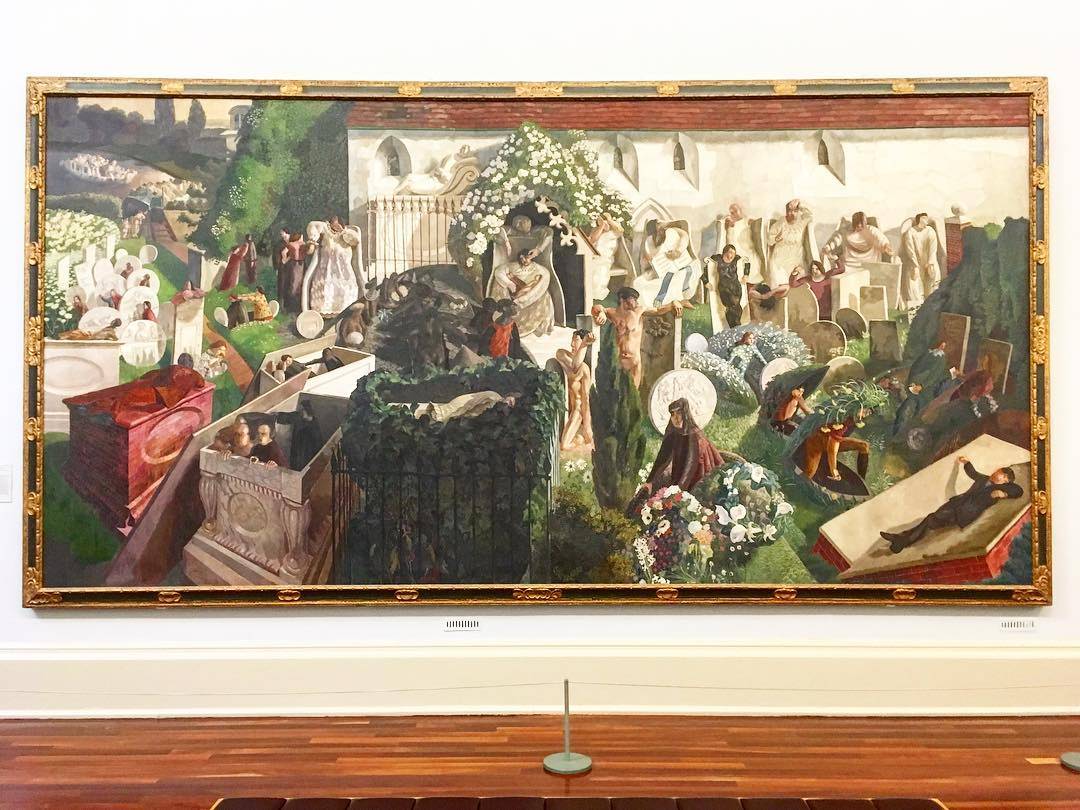 Stanley Spencer - The Resurection Cookham
Photo by Fausto Jannaccone (Instagram)
Spencer was known for his large canvases and it certainly appears that to the painter, bigger was better. Whilst working away from Cookham in Hampshire he was given the opportunity to create a spectacular set of paintings for the Sandham memorial chapel in Burghclare. Sixteen paintings filled this irregularly shaped room and Stanley as always never failed to impress. The paintings were of the War and they begin with soldiers arriving at the gates of Beaufort, the men are shellshocked and in need of rest and healing. The next panels move on to Macedonia and although they follow daily life during the War, violence and fighting is conspicuously absent. Stanley didn't want to depict the base nature of War, he wanted the celebrate the comradery and the work that was done to help the men and to organise the coming battles. Finally, the paintings finish with a resurrection scene, Stanley said of his time in the War, " I had buried so many people and saw so many bodies that I felt death could not be the end of everything."(1) It took Stanley six years to complete the Burghclare chapel paintings.
In 1932 he was elected Associate of the Royal Academy of Art. He also exhibited 11 works at the British Pavillion of the Venice Biennale that year. By 1939 a Second European War had erupted although this time Stanley would not be involved in the military, he would, however, contribute by painting for the War Artists Advisory Commission (WAAC). He was sent to Lithgows Shipyard on the banks of the River Clyde in Glasgow to paint the people working. When he saw the vista of the shipyard Stanley became invigorated by it and made a bold proposal to the WAAC, he wanted to do sixty-plus paintings for them, WAAC respectfully declined but did commission him to complete eleven. Stanley again found a workaround and made some of the canvases up to six meters long. In my opinion, these paintings are up there among his best works. When he presented them to WAAC they were bowled over by them, but the War was beginning to bite the finances of the Country so they were unable to purchase the full eleven canvases and settled for seven instead. Unbelievably, the National Maritime Museum was offered the collection for their permanent display but refused the paintings, at the end of the War and they were in turn gifted to the Imperial War Museum.
By Stanley Spencer - Shipbuilding on the Clyde, Bending the Keel Plate - http://www.iwm.org.uk/collections/item/object/25164,
Public Domain, https://commons.wikimedia.org/w/index.php?curid=30854635

By Stanley Spencer - Part of Shipbuilding on the Clyde, Bending the Keel Plate http://www.iwm.org.uk/collections/item/object/25164,
Public Domain, https://commons.wikimedia.org/w/index.php?curid=30854810

By Stanley Spencer - Part of Shipbuilding on the Clyde, Bending the Keel Plate http://www.iwm.org.uk/collections/item/object/25164,
Public Domain, https://commons.wikimedia.org/w/index.php?curid=30854942
The 1950s would be Stanley's last decade, but controversy landed on his head once again when the President of the Royal Academy Alfred Munnings found one of his sketchbooks obscene and reported him to the Police. This caused a lot of angst and damage to Stanley's name at a time where such things were not so easily overturned. However, Stanley would find a friend in Sir Gerald Kelly who would defend Stanley and his right to make the drawings. Eventually, Kelly would take over the position of President of the Royal Academy and restore Stanley's name and position in the organisation. Spencer later was made CBE and would spend some of his time in the early 1950s visiting Ireland and painting as much as he could.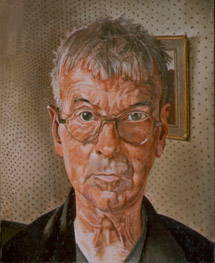 Stanley Spencer - Self Portrait By Stanley Spencer - http://www.tate.org.uk/britain/exhibitions/spencer/room6.htm, Fair use, https://en.wikipedia.org/w/index.php?curid=18954575
In 1958 Stanley Spencer would begin work on another Cookham-religious painting, the Crucifixion. His reputation now restored he was Knighted the same year and became Sir Stanley Spencer. In December of 1958, he was diagnosed with cancer, he went for an operation to try and remove the tumour and it while he was convalescing that he painted another of his most famous paintings, his self-portrait. A year after being diagnosed, Stanley died from his illness. His painting the Crucifixion was never completed and lay on his easel after his passing.
Stanley's artwork appeals to me because of its honesty, it is very much of its time and in many ways ahead of it. There are some fabulous videos online on his life and work and I implore you to go and watch them, to get a feel of the man and his vision. We're very lucky to have footage of him talking and working, so many artists didn't take this opportunity to be filmed working, or even to sit down and have an interview.
I've always been an avid fan of his work and I hold him in the highest esteem as did many of his peers. It's been 60 years since his death and no-one has come close to him in style and creativity. You see hundreds of LS Lowry inspired painters who mimic his style and originality, but you very rarely see someone try and do what Stanley did, and that's a good thing. The scale, complexity, narrative, boldness and skill involved in every painting is something that can't be easily replicated, and nor should it be.
Stanley Spencer - Counterpoint is on show at the Stanley Spencer Gallery in Cookham until the 3rd November 2019. https://stanleyspencer.org.uk/
(1) Kitty Hauser (2001). Stanley Spencer (British Artists series). Tate Publishing. ISBN 1-85437-351-X.)
Images are not our own and are from various sources - links supplied (where possible to locate).
All opinions are my own and not De Lacey Fine Art's or any other company or body.
Stanley Spencer - 60 years gone - G Farmer 2019 © Copyright