Josef Herman's life had been one of struggle and pain but now in 1944, the German army was being tentatively pushed back through Europe and Russia. The Allies had liberated Rome, Guam, Paris and were assaulting Japan and other German ally territories. However, the War was far from over. Hitler had been industrious in his development of new and terrifying weaponry, and his latest effort would have a devastating effect on the city of London. The German Army had been developing rocket-powered missiles which would become known as Doodlebugs. This powerful and far-reaching ordinance would devastate the capital of Britain and claim more than 22,000 lives in the process. They were too fast to be destroyed with flak guns and were launched from too far away to be stopped at the source. Josef was living in London at the time and would have seen and heard the damage that these weapons would wreak on the British public. So Josef and his wife Catriona decided to get out of London for a short while, and Wales was the chosen destination. They had no idea that the small town of Ystradgynlais would be the place where his art would be synonymously linked forever.
In Southwest Wales in the county of Breconshire near to Swansea there is a town called Ystradgynlais. This was where Josef and Catriona planned to spend three weeks away from London. When they arrived they did all the usual things that people do on holiday, it was never supposed to be anything other than a short break from the city. One evening Josef was stood at the end of the Ystradgynlais bridge when he saw something that changed everything for him. He would later describe this moment as being akin to St Paul in Damascus.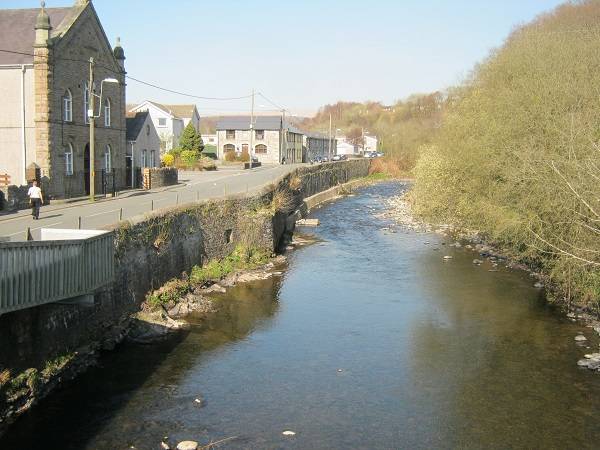 The River Tawe, flowing through Ystradgynlais
The sun was going down over the town and an orange glow filled the streets around him, he was taking it all in when he looked across the bridge and was awestruck by the image he witnessed. The bus had arrived from the Colliery and the Miners were exiting into the street, Herman described it like confetti spreading all over the road. As they split up in their different directions to head to their homes or pubs, a small group began to cross the bridge with the lowering sun directly behind them. Josef would describe them as moving shadows with a halo of light encircling them. This was his Eureka moment. He knew that this had to be the direction he took his work and would be the subject that would feed his hunger for creativity. He was no longer on holiday, he was there to work and to live.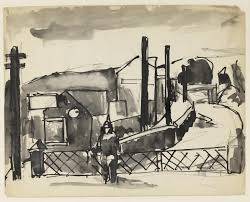 Josef Herman, View from the Bridge, Ystradgynlais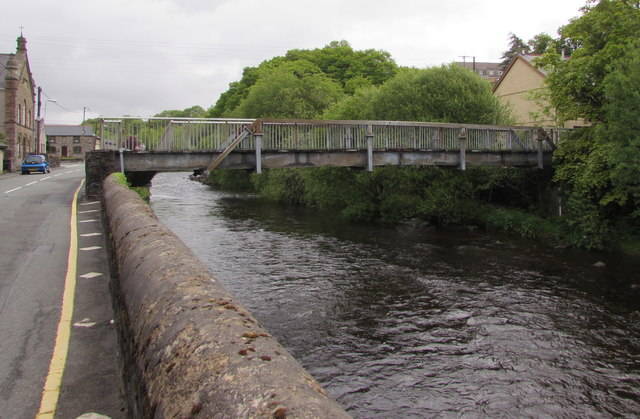 Teddy Bear Bridge is still standing today.
They stayed at the Pennybont Inn for about 18 months and the hotel management was good enough to let Josef use the Ballroom as his studio. When Josef and Catriona had succumbed to the realisation that they were permanently staying in Ystradgynlais they began to look for a suitable property. Catriona saw a disused factory which was dilapidated and going reasonably cheap. Josef viewed it and they decided that they would convert the vehicle bay into a huge studio for him while the offices and other areas at the back of the building could be made into a studio apartment. They pressed ahead and the factory would become their main residence for the next nine and a half years. Josef's typical working day would start at 4 am and he would get up and begin sketching the Miners as they went to work, then he would head back to the studio and turn those sketches into larger paintings or Pen and Inks. The Miners would see as they went to work that the light was on in his studio and they knew that he was hard at work creating paintings. This formed a bond of mutual respect for the people of Ystradgynlais and this is why many years later when recounting his time in the small Welsh town Josef would tear up and become very emotional.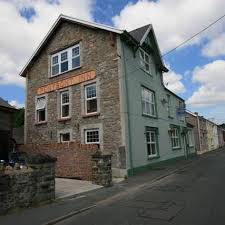 Pennybont Inn, Ystradgynlais - Pinterest
He would capture the workers coming home, he would capture them leaving, he would even go into the mine and sketch them working and resting on breaks. It was an endless stream of subjects for him. He didn't just limit his time in Wales to the Miners and town of Ystradgynlais. Josef would venture into the hills and mountains to capture landscapes and nature. In the winter the white ponies would come down from the mountains and he would interact with them and of course, sketch them. In spite of the many subjects available to him, his first love would always be the human spirit and this would hold a deep fascination for him, especially the working person, whether it be Miner, Farmer, Fishermen or women, Josef would immortalise them all. The people of Ystradgynlais knew this and he was welcomed as one of their own. Three weeks would become eleven years and cover the most iconic and creative period of his work. He felt a deep connection to Wales and it was reciprocated by the people, he was given the nickname 'Joe Bach' which meant 'little or small Joe'. It was a term of endearment from the locals because in the Welsh language 'Bach' doesn't just mean 'small' it also means 'dear' which meant he was accepted and included by them.

Herman had everything he wanted in Wales, he fell in love with it and would wax lyrical about its treasures many years later in several interviews. He likened it to Provence for the variance in light. He said that Monet had visited Provence to capture the changeable light in his work, but to him Wales was Provence. It gave him so many different views and so many aspects of colour and light that he never tired of what the Country had to give him.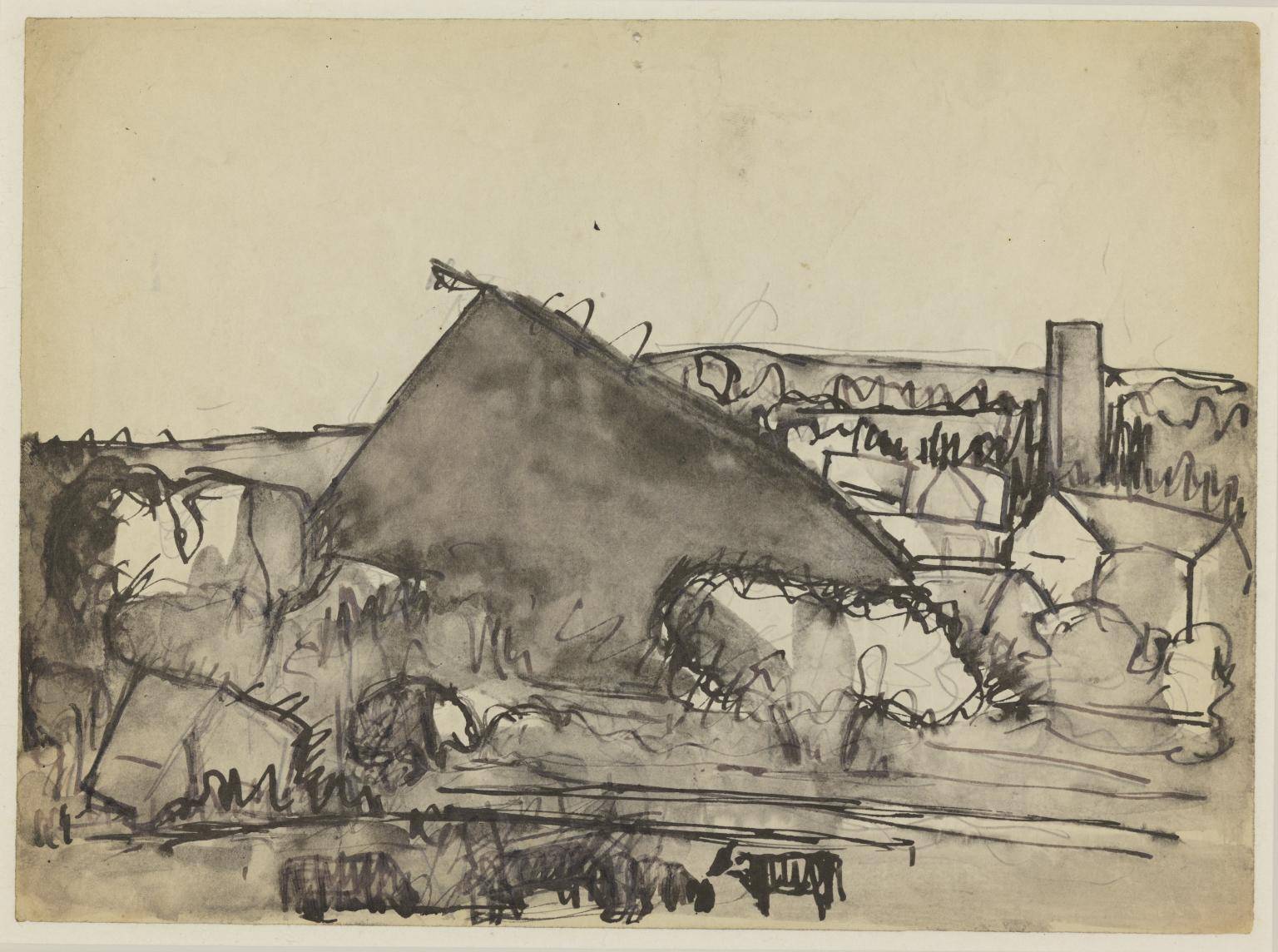 Josef Herman. Sketch of Ystradgynlais and tip - Tate
One Mountain, in particular, was a favourite for Josef and that was Craig y Fartig. This mountain loomed over Ystradgynlais and Josef called it his mountain, he said that anyone could have the other mountains in Wales but Craig y Fartig was his. He felt a deep spiritual connection to it and viewed it in his own way, comparing it to the human figures his work focused on. He once was quoted as saying "My sphere of interest was the colossal triangle of tip, it governed the whole village, and it is this tip which stood out of the mountains. It was greater than the mountains. A physical measurement, probably it wasn't, but in spiritual effect, it was. And this is what my world consisted of."
In this early period of his stay in Wales Josef experimented with mediums and delved into working in Pastels. This would be a really enjoyable experiment for him to work in this way. Pastels are notoriously delicate and difficult to work with. One wrong move and it takes a lot to correct it. Herman wanted to get away from the liquidity of paint and to feel another texture with his work. For the next three years, the pastel experiment would be something that Josef would explore. The Tate has one of his favourite Pastels from this time in their collection. Josef didn't see pastels as an extension of his painting he viewed them as a medium of their own and he felt that this medium suited his style very much.
During the Welsh years, Josef would sell his work back in London. He already had a well-received show in London's famous LaFevre gallery where he showed alongside Laurence Stephen Lowry and it was during this show that one man bought several of his drawings and paintings. That man was Gustav Delbanco. Two years later in 1945, Josef was in London again on gallery business in Cork Street, which at the time was the epicentre of quality art in Britain. As he strolled down the busy side street which ran parallel to the world famous fashion locale Saville Row, he walked past a gallery called Roland, Browse and Delbanco. He recognised the name Delbanco as the chap who had bought several of his works a few years earlier so he decided to go in and see if it was the same person. It was. This began a crucial relationship for Josef Herman which would last 40 years. Josef exhibited every three years with Roland, Browse and Delbanco and this gallery can be credited with managing Josef's work in a clinical and proper manner. They raised his public profile and placed his work in front of some of the best and most avid collectors in Europe and the world.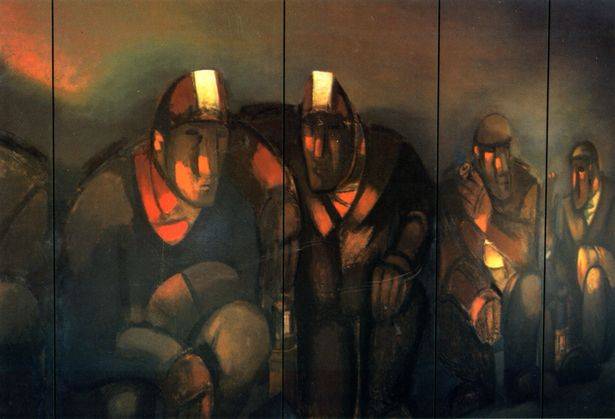 Miners (1951) by Josef Herman at the Glynn Vivian Art Gallery (Image: Glynn Vivian Art Gallery)
In 1945 the Second World War was almost over but a new conflict was rising for Josef. Catriona had suffered the loss of the couple's baby and had gone into a severe depression, which lasted for years. Josef did his best to help her recover, he loved her dearly and it was heartbreaking for him to see his wife become unrecognisable. Josef tried everything to help her but a lack of money and understanding regarding mental health in the 1940s meant that there was very little he could do. Catriona would eventually become infirm and unable to walk and Josef did his best to look after her. He later said that Catriona never fully recovered from the depression, she was changed in a very impactful way. In 1951 after six years of care for Catriona Josef had come into some money after he won the Festival of Britain prize and on the back of some good sales he finally had the resources to get some professional help for her. He spent as much as he could on Doctors in Switzerland and Jersey to try and help her recover but sadly it was all for nought. Josef credited one Psychoanalist with eventually bringing Catriona out of the depression, she finally began to walk once more, but the two of them felt very differently about one another now. In 1954 after nearly a decade of an impossible situation they divorced.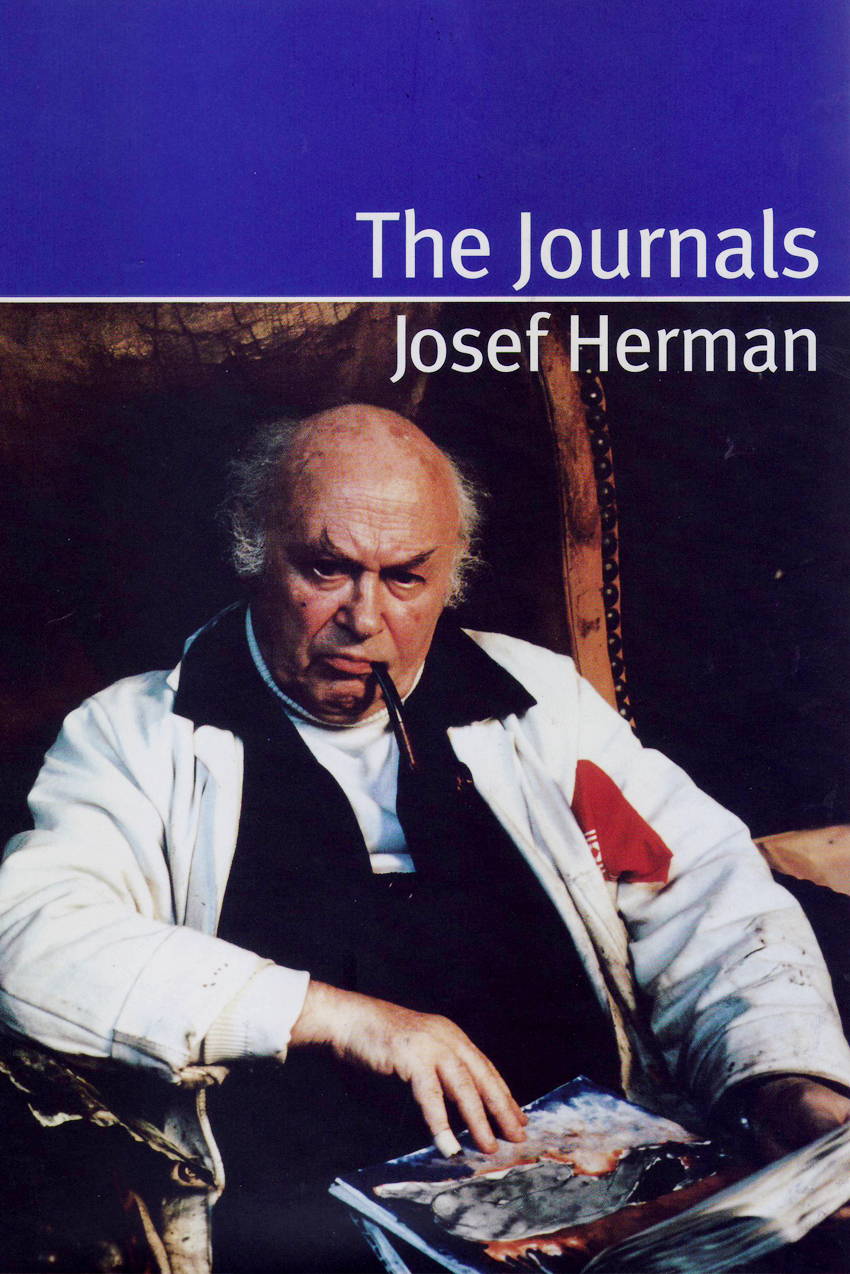 Josef Herman - The Journals
A year later after the divorce, Josef would become ill in Wales from the damp weather and it was under medical advisement that he moved back to London to improve his health. With a heavy heart, Josef said goodbye to Wales and the people of Ystradgynlais and headed back to the capital where he would take a studio. He spent some time travelling, and visited Spain and Mexico. This is the beginning of the middle period of Josef Hermans career and I will delve into that another time and in a new series of blogs. This Welsh period of Josef's career mirrors the rest of his life, the highs, the lows and everything in between.
There is something about his time in Wales that is truly magical. It would ignite a fire in his spirit that went on to fuel a fabulous collection of work for the next decade. His work was so strong in this period that it set him up for the rest of his career with subjects and ideas that would occupy his thoughts and define his legacy. If you ever get the chance to visit the Tate and see the Herman collection, you really should. His large scale Oil Paintings are simply stunning.
This has been a long and enjoyable series of blogs but I really don't think I can push any further along Hermans career and call it the early years. So this third instalment will be the last for a little while and then we shall come back and go into the next period of this amazing artists life.
Images are not our own and are from various sources - links supplied.
All opinions are my own and not De Lacey Fine Art's or any other company or body.
Josef Herman - The Early Years Part III Copyright - G Farmer 2019