Last week I wrote about the fascinating early years of Josef Herman and his journey to Britain which would become his home for the rest of his life. We left off at a point where Josef was fleeing mainland Europe and trying to stay ahead of the German advance across Poland, Belgium, Holland, and France, he ultimately found himself on a ship heading towards what he thought was Canada but was actually Liverpool, England.
Josef's sea voyage was over quicker than he imagined. His original destination of Canada would have been both perilous and long, the German navy was trying to cut off supplies of troops and equipment from arriving or leaving the UK. His voyage was thankfully uneventful and he arrived safely in Liverpool. When the Ministry of Defence officers in England realised that they had several civilians in the group of supposed airmen, they were livid with the soldiers who had given them their places on the boat. He spent a few weeks in a Polish refugee centre in Norwood, London. This was typical during the War as the British had to vet everyone coming into the Country for illnesses and even to see if they were spies. During this time Herman kept up his drawing and tried to work each day. They eventually sent the civilians up to Glasgow each with the gift of a pound, this was a common destination for Polish newcomers as there was already a large Polish community in Scotland, and it would make it easier for the travellers to acclimatise to the new country with people they could converse with.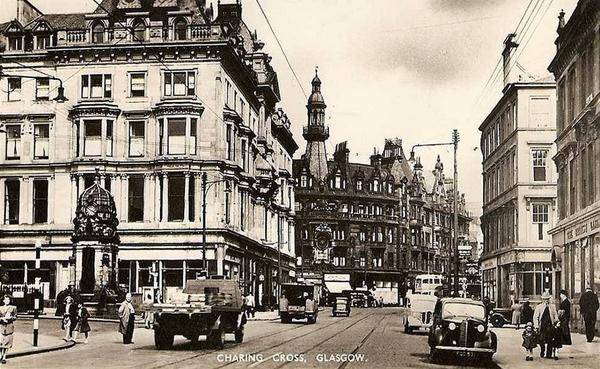 Charing Cross Glasgow, Circa 1940 - Twitter
This was a tough time for Josef he realised a pound wasn't a great deal of money, but it was all he had. He couldn't speak English, so he spent his days in the Library reading and trying to figure out what to do with himself. He knew that there would be an artists community in Glasgow, but had no idea how to meet with its members. One day a German Jewish man in the library saw him reading and went over to speak to him. This was a great relief for the young Herman as he could finally talk to somebody new who lived there and could answer some of his questions. The man was a Journalist for the Evening Post, Josef asked him if he knew of any artist groups in the city that he may join and work with.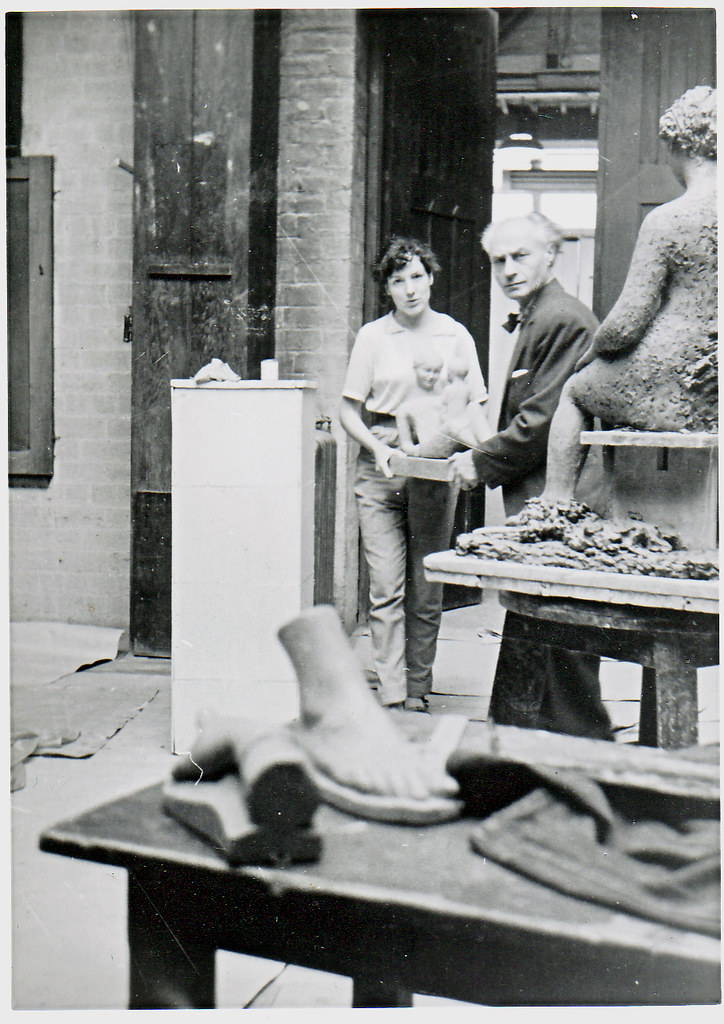 Benno Shotz with Student Circa 1960
- Flickr by Gallacher Begg
The journalist didn't, but he advised Josef to go and meet with a man called Benno Shotz who might be able to help him. He gave Josef one last piece of advise before he left him with Benno Shotz, and that was - whatever he did in Glasgow or anywhere else in Britain it would benefit him greatly to say 'please'. This was the very first word that Josef learnt in English. Years later he would be thankful for this advice, in those days it was a most important courtesy to say 'Please' and 'Thank you'.
Benno Shotz turned out to be a blessing for Josef, he called him his 'Guardian Angel'. He was the leading Sculptor in Scotland at the time and the head teacher of the Glasgow School of Art. He gave Josef lodgings and fed him and went everywhere with him. He helped Josef get shows at local galleries and would often give him supplies of paint and brushes to help him work. Shotz could speak several languages and began teaching Josef how to speak (what he called) Scottish English.
One day Shotz said to Josef that he had a friend who he should meet, Jankel Adler. Herman was dumbstruck, he had known of Adler for nearly four years and was a huge admirer of his work, but he had no idea that he was even in Britain, to know that he was in the same city as him was a huge deal. Of such importance was Adler's work that he had managed to arrive in Glasgow with 250 of his paintings. Although not all of his work survived the German invasion, in 1937, twenty-five of his works were seized from public collections by the Nazis and four were shown in the Entartete Kunst (Degenerate Art) exhibition in Munich. He went on to live in Paris and work alongside the great printmaker Stanley William Hayter in the Atelier 17 printing studio. His reputation continued to grow and in the late 1930s, Adler's work was more expensive than that of Chagall. Today his work is on show in the Tate collection and many other important national collections.
Josef recounted years later that when he heard that Jankel Adler was in Glasgow, that was when he felt that Glasgow was his home.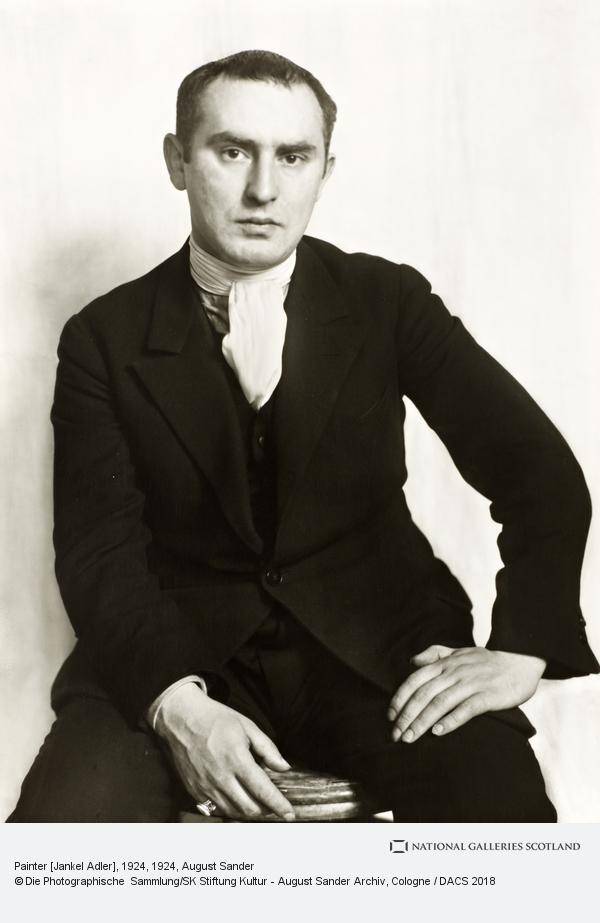 Jankel Adler - 1924 - National Galleries of Scotland
Josef's happiness wouldn't last long, in 1943 he received word from the Red Cross that his family had been 'liquidated' in Warsaw as a part of the Nazi's 'Cleansing' of the Ghettoes. Josef knew what liquidated meant and that his family had been murdered. Josef went into a deep depression, which he described as a schizophrenic breakdown that lasted for several weeks. Jankel Adler nursed him as best he could through this very difficult time, he was a true friend to him. Herman completed just one painting in 1943 which was a homage to his family. When he finished the painting he cried, and that was the release he needed to break from the depression. After the war in 1948, Herman would learn the grizzly details of his families demise. The Germans sent large vans into the ghettos to round up Jews who were being 'taken to work', but the vehicles were more than just modes of transport, they played very loud music as they drove around the streets. The music was to drown out the screams in the back of the van as they pumped the exhaust system for the vehicle into the rear compartment where the people were kept. He also learned that all his friends in Belgium had disappeared and had never been heard from again. Everything he left had been taken and destroyed, there is nothing of Josef Hermans art from his time in Belgium. There may be the odd piece somewhere but whether people know what it is and whether it survived the Nazi purge of 'Degenerate art' is unknown.
In 1942 Herman married his first wife Catriona McLeod who came from a very wealthy Scottish family. He met her on one of his exhibition nights in a gallery when she came in and bought five of his paintings. She later asked him if he'd take her on as an apprentice painter and tutor her. He initially refused but she persisted and eventually won him over. Their marriage was complicated by the fact that her family were a part of the Scottish Fascist movement, and Catriona had married a Jew. Her father was completely outraged and cut her off from the family money. Josef described this time as very difficult for her, she worked full-time in a nursery to help bring in money.
In 1944 Josef and Catriona decided to get out of London for a while, the blitz had decemated large parts of the city and they needed a break. The only snag was that they didn't know where to go. One day Josef met a friend who told him that he'd just come back from Wales and that he stayed in a Welsh mining village, he told Josef what a beautiful place it was; so they decided to go. While they were there they fell in love with the Country and never left, they would stay for eleven years. During this period of his life, Josef would produce some of the most important work he would ever complete. This would eventually cement his legacy as one of the truly great artists of the 20th Century.
Josef and Catriona were married for eleven years, but the relationship ended in tragedy as Catriona gave birth to a stillborn baby, and this sent her into a deep depression. During this time she lost the use of her legs, and in spite of Josef seeking the best medical help he could from European specialists, she was bedridden. The best medical minds could find nothing physically wrong with her, as time went on they both fell out of love with each other and decided to get a divorce. Catriona would eventually recover and her father was elated that she was rid of the marriage that he had hated so much. In fact, he was so pleased that he gave her £500,000. Josef recounted years later that she blew through the money very quickly, but would never be poor again.This leads us to one of Josefs most interesting and productive periods of work - The Welsh years, but I'll save them for Part III.
As you can see, Josef Hermans early life was full of danger, risk, loss, and gain. Most of us experience these things but not to the degrees that Josef did. The loss of his family would be something he would lament for the rest of his life.
We will talk more about Josef Hermans fascinating journey and work again next week.
Thanks for reading Josef Herman The Early Years Part II
Images are not our own and are from various sources - links supplied.
All opinions are my own and not De Lacey Fine Art's or any other company or body.
Josef Herman - The Early Years Part II Copyright - G Farmer 2019