I first saw John Piper's work at the very beginning of my art career. I was 22 years old and obsessed with art. I read everything I could get my hands on and that included subscriptions to the Royal Academy and the Tate magazines. In those monthly and quarterly publications, were a myriad of adverts for galleries and museums with the latest and greatest works of art. Among them, were images that caught my eye, not the usual architectural images that are associated with John Piper but his 'Foliat Heads' and his abstract works were what truly drew me in. Particularly his 'Death in Venice' prints which I and many others still view as some of his greatest pieces. When I began to research him more I saw this incredible collection of graphic works that depicted everything from ruined chapels to the richest palaces in the world. Not only was his graphic collection vast and intricate it was varied in subject and style. His 1970s screenprinting of photographs taken of his wife Myfanwy and then worked over.
12 months later I had my first gallery in Liverpool at the Albert Dock, five doors down from the Tate, where they were showing a lovely example of Piper's work in their permanent collection. So when I opened my gallery with my Brother, we were both huge admirers of Piper's work and knew we had to have it in the gallery. We began with a copy of Clytha Castle which is a relatively small print for Piper, none the less it lasted about four days before someone came in and bought it on their way back from work. That was the first major work of art I sold in a gallery and it did two things, firstly it calmed me down a bit from the pressure of the cost of building and running a gallery, and secondly, it made me go out and get another four larger-scale Pipers and some originals. They all sold very quickly too and this was within a short period from his passing in 1992, eight years later we were selling his work, his high-quality prints and originals were in great demand.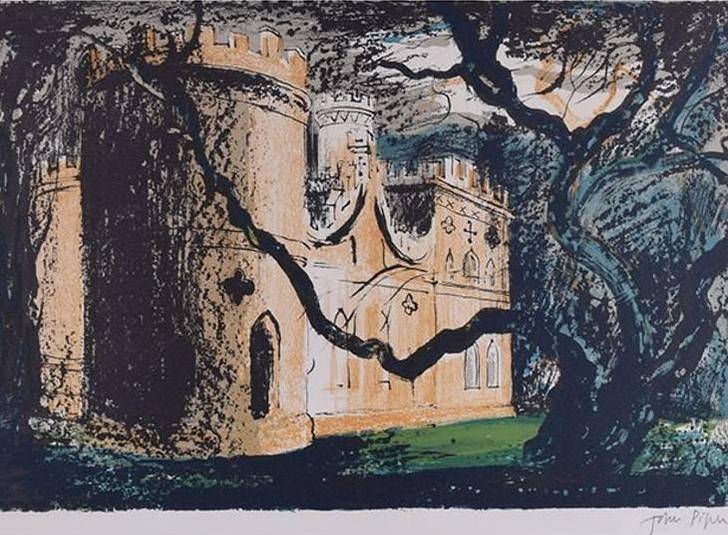 John Piper - Clytha Castle
Lithograph
Curwen Press 1976
If we look at today's markets we see that Piper is still widely recognised and loved as one of the nations foremost modern artists. His work at the Cathedrals in Coventry and Liverpool have stood the test of time and are still visited and much admired. Piper did everything, he was a true artist as ambitious as Picasso (and later David Hockney) in his bravery to experiment in many styles and effects. He began as most do by drawing and painting and that method stayed with him his entire career. The mad genius in him, however, had to push the boundaries of what could be achieved in various mediums. He made windows for Cathedrals and co-invented a new way of displaying stained glass with an equally ambitious artist called Patrick Reyntiens. He delved into Textiles with rugs and cloth, showcasing many different designs in all manner of shapes and sizes. He worked with Photography and produced Screenprint collaborations featuring buildings and his wife Myfanwy. People say he produced a lot of prints in his later life, but whilst this is true, his first prints were produced in 1922 and his last in 1990 just two years before he died. In total, he produced 433 printed works, not all of them signed or in limited editions. He left a wonderful legacy of documentation of the buildings he captured and whilst some are very abstract they still hold up as records of these properties.
One thing that can be said about Piper's prints is that they were expertly produced. The colours and quality of them still shine through today. He used a variety of printers but most famously he worked with Curwen press and Kelpra Studios. Curwen produced his high-quality Lithography and Kelpra produced his Eye and Camera series of Screenprints. Those screenprints were a great departure for Piper, not adverse to pushing the envelope, he waded into a new style of working, by amalgamating pencil and Photography and bringing them together in the guise of a Screenprint. It was radical, it was brave and it worked. Not as popular as his landscapes, but none the less important in the overall sphere of his work.
Piper went on to publish with Marlborough Graphics and settled into a rythem of producing high quality Screenprints with Kelpra Studios. This partnership would flourish and the union would see massive success for both artist and printer.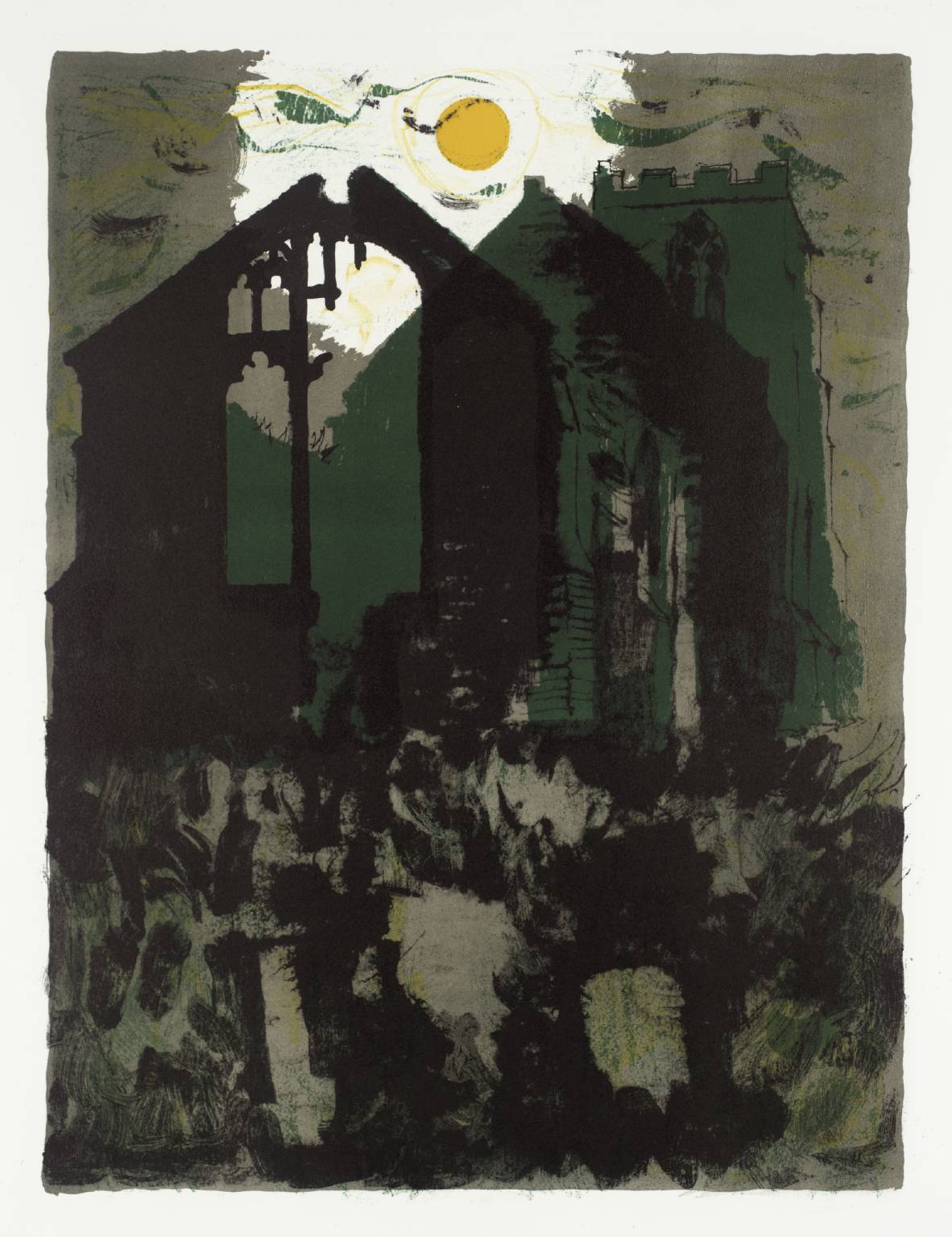 John Piper - Wiggenhall St Peter, 1975
Image Tate Website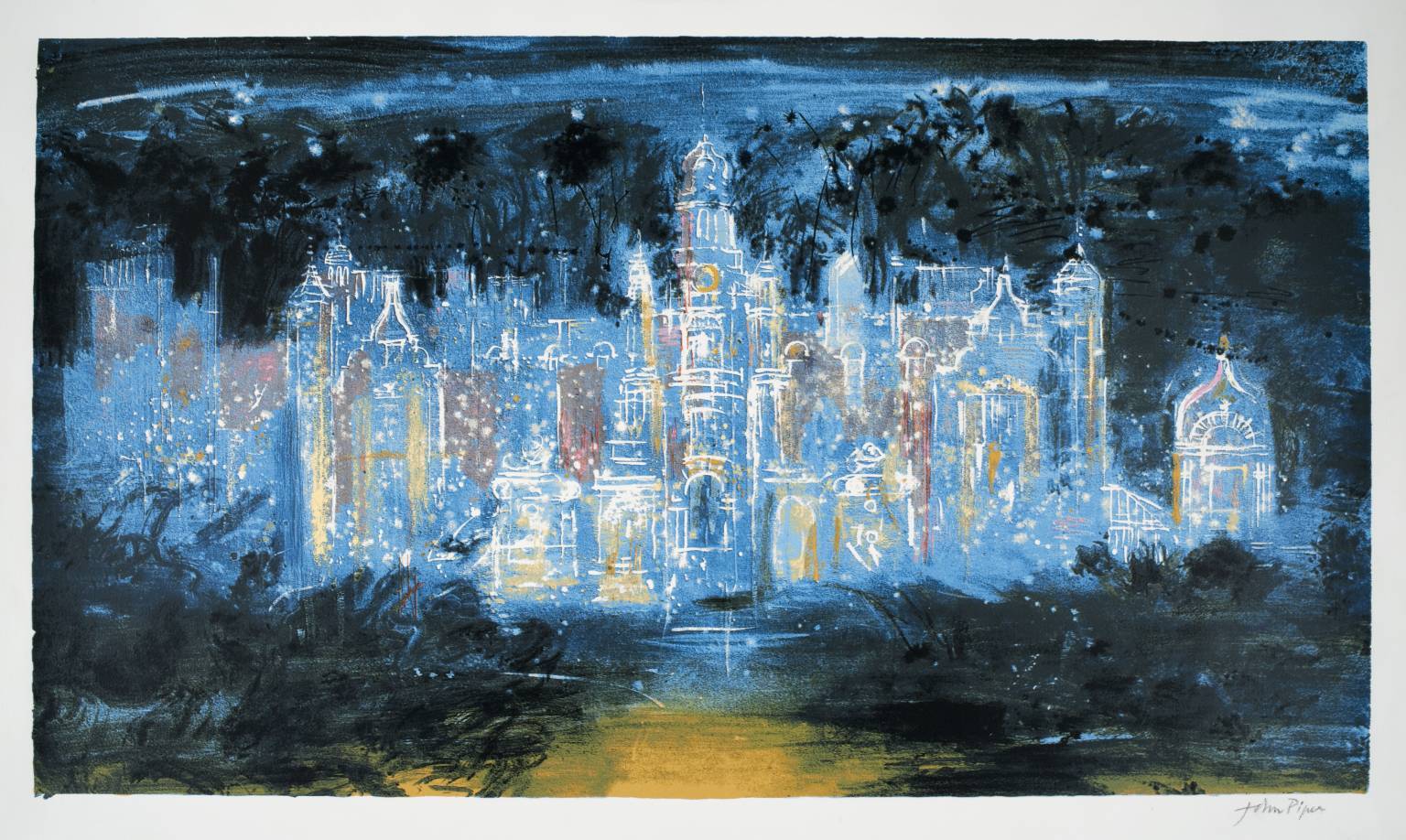 John Piper - Harlaxton (Blue)
Screenprint
Kelpra Studios 1977
In 1973 Benjamin Brittain was writing an opera based on the Book by Thomas Mann - Death in Venice. Myfanwy Piper wrote the English version of the libretto for the Opera. John being ever close to his wife was inspired to produce a series of ten wonderful Screenprints on the book and opera. These works were seminal in his graphic collection and although 70 copies were printed, only 40 were sold as the first 30 were gifted in presentation boxes. The significance of John Piper's Death in Venice series is that he brings to life the mood of the book. Taking place in Venice, under the cloud of what turns out to be a very serious outbreak of a disease, which nobody quite understands or takes seriously at first. At the same time, people begin dying from it, and ultimately in large numbers. What starts as an adventure for the main character ends in him being frightened for his life, and having to endure the loss of people around him. The whole idea of this series of prints is to show Venice in that light - or lack thereof. We see Venice with black skies, black waters, and dark shadowy recesses. The whole idea of this collection is to impose a feeling of being enclosed, which is what essentially the main character of the book, and the opera, both feel. There's an overiding air of oppression, about the entire story. And that gives a lot of tension within the narrative. And it's also the same with John Piper's work. He intersperses the dark patches of sky and water, with swaths of red and blue. Sometimes he interjects small amounts of yellow into them. But for the most part, these are dark and claustrophobic works. However, they are equally powerful and visually pleasing working in perfect partnership within the context of the book.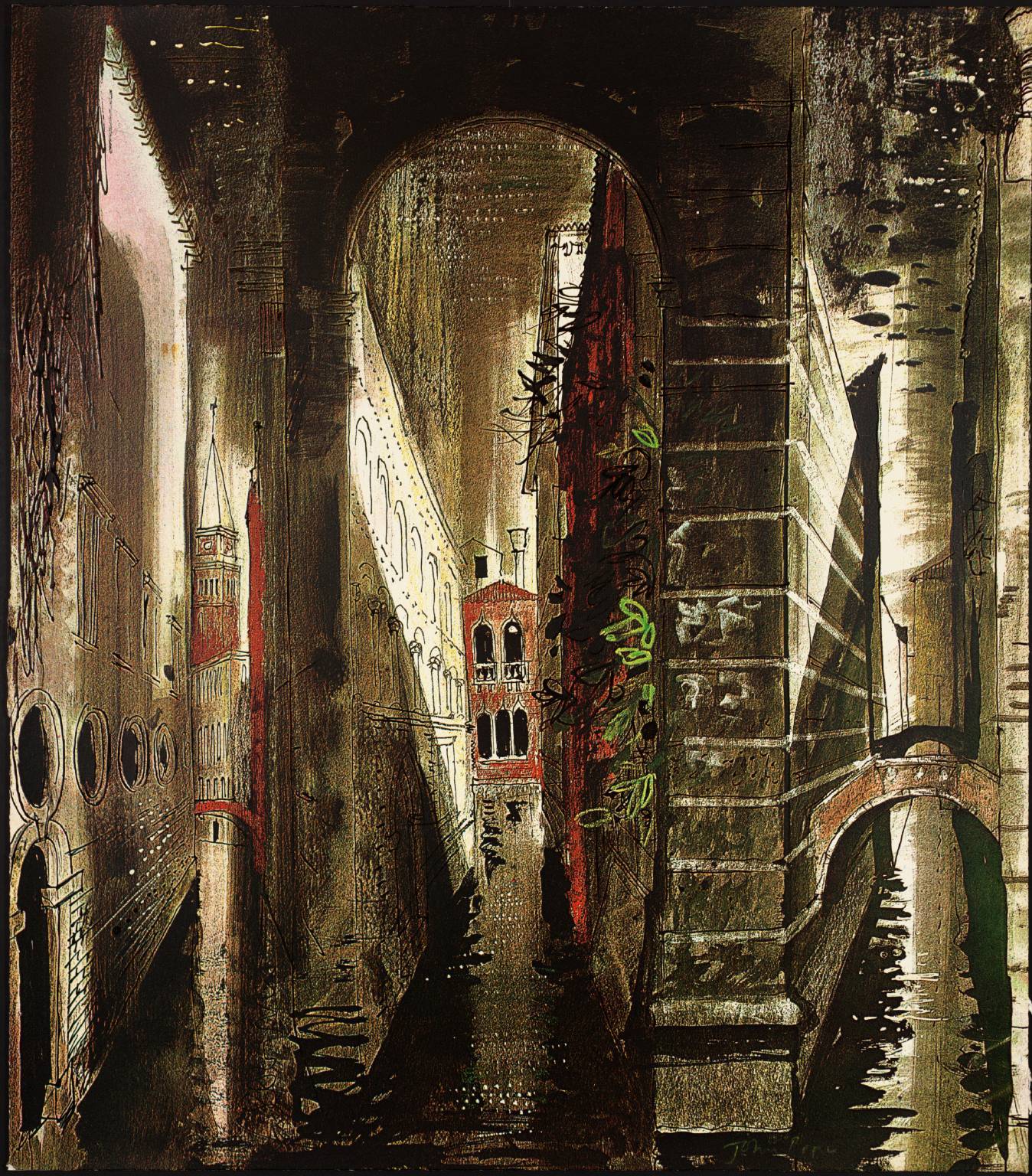 John Piper - Death in Venice 1972
Screenprint on paper
Image Tate Website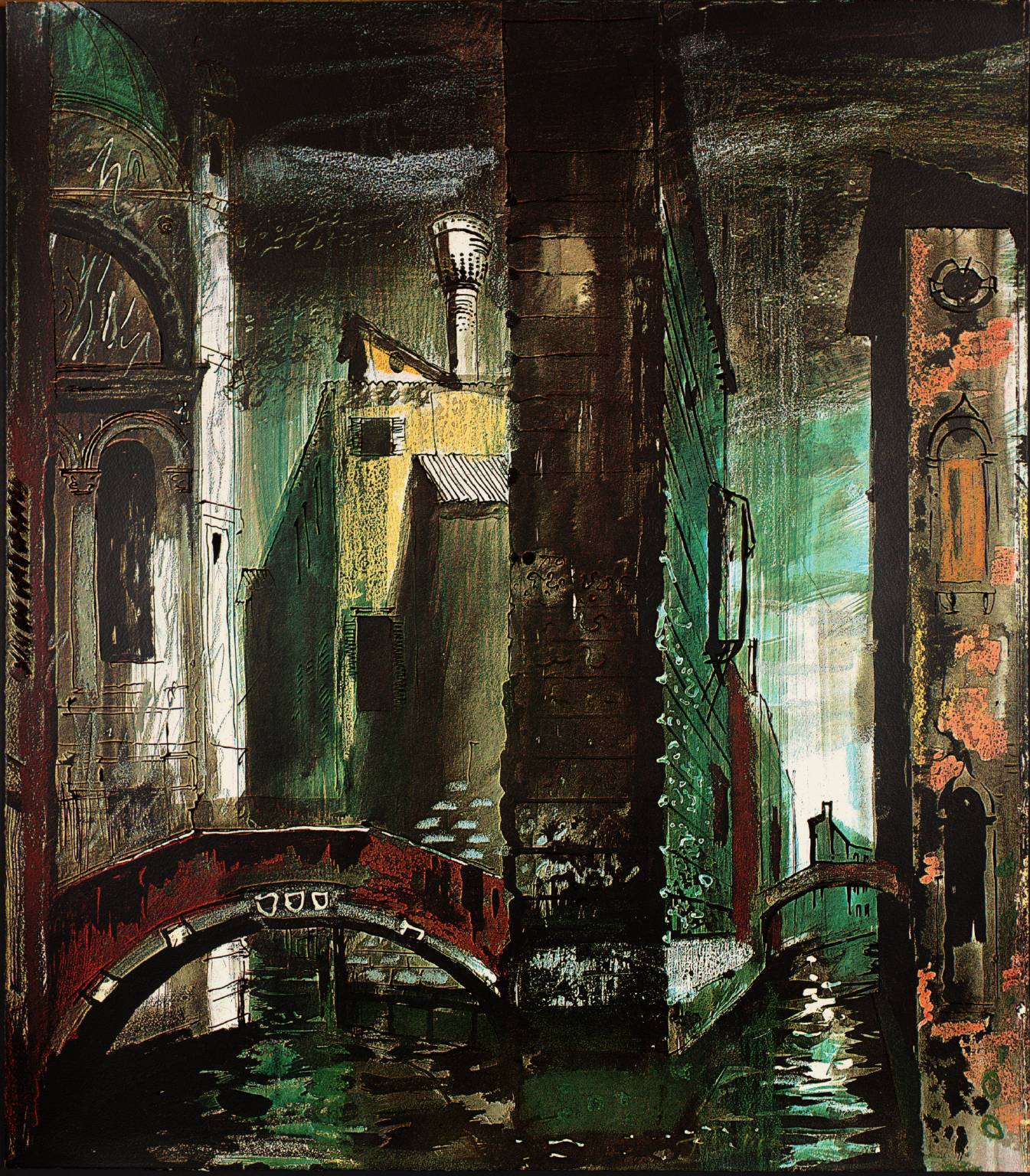 John Piper - Death in Venice 1972
Screenprint on paper
Image Tate Website

There's so much to talk about with John Piper that I feel I should possibly do a two or three-piece in-depth look at his life and work, but we'll hold off on that for another day.
I hope you enjoyed this short blog on my love affair with the work of John Piper, one of the 20th Centuries truly great painters and printmakers.
All Images are mine unless otherwise stated. All opinions are my own and not De Lacey Fine Art Ltd or any other company or body.
John Piper, a long love affair - G Farmer 2020 © Copyright