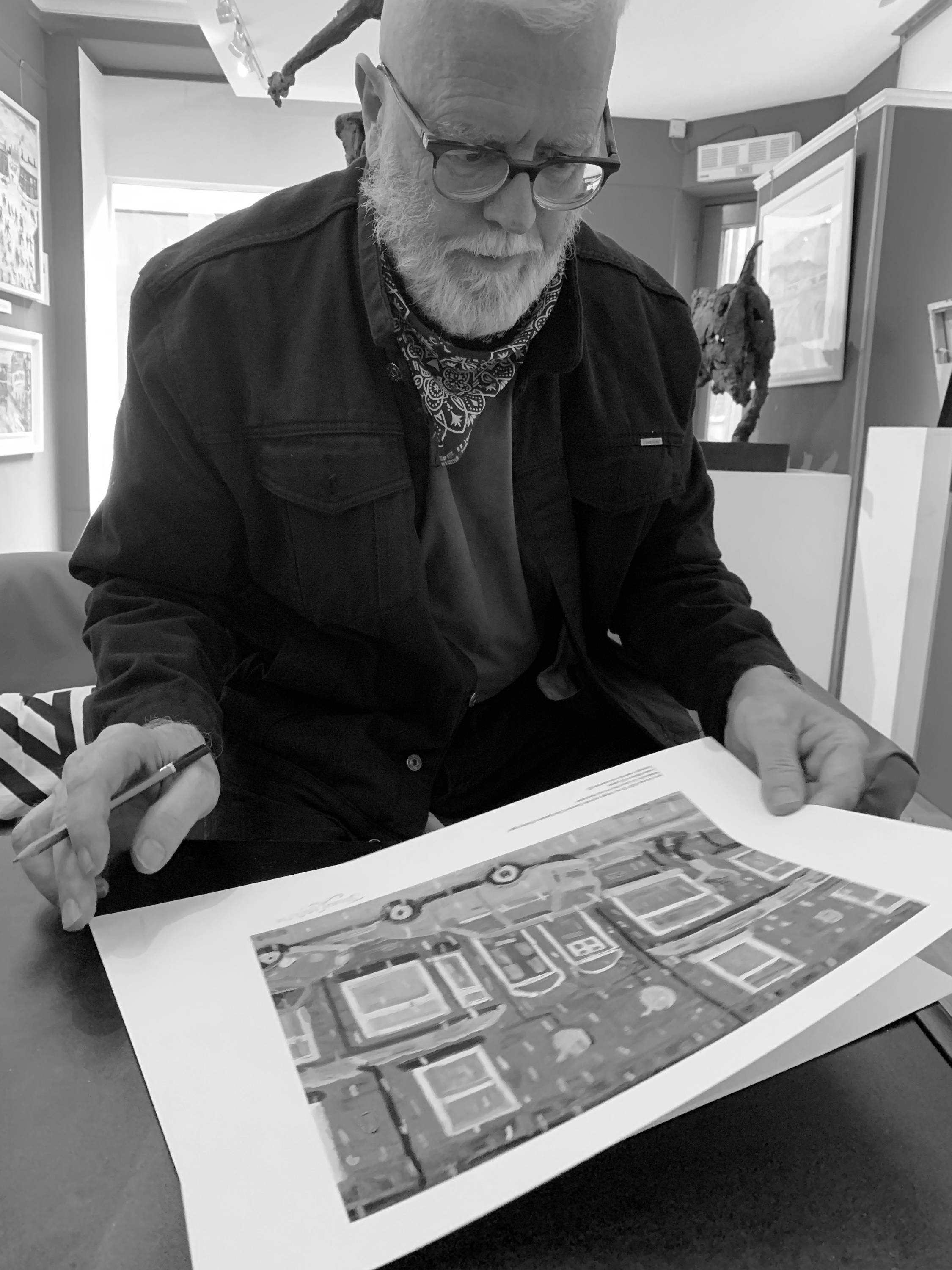 Welcome to a new series of blogs where we delve into the history and driving forces behind our artists. We asked them a series of questions to find out what their lives as artists entails, how they were formed, and why they work the way they do.
I hope you find them interesting.
Our first artist in perspective is Jerry Gordon and I'm sure you'll be as enthralled as I am with his response to this interview.
1. What age where you when you began drawing and painting and how were you influenced?
Age three years - drawing boats, (still have them drawings), influenced by my dad who also drew, (still have a sketch of his).
Painting soon followed the pencil and crayon drawings. Loved it. School reports, (still have copies), confirm my passion. I came top of class, or thereabouts across all school years. Gained GSCE's in Art and Technical Drawing to verify it!
2. Which artists were your biggest influences and why?
Firstly, and by far and away is Vincent's work. Fell under his spell in my 20s. He demonstrated that you have to go 'all-in' with no time to dangle a toe in the water, but get immersed! Others include Monet, for being adventurous, Matisse for his colours, and definitely Lowry for his uniqueness, Beryl Cook for her humour. In fairness, and having studied art history, (University of London Birkbeck college), I could list a whole lot more men and women who have sunk into and influenced my own ways.
3. When did you decide that you were going to seriously pursue a career in art and what challenges did you face?
Age 30, in New York, I had a sense of a painters way atop the Empire State Building in 1986. I now saw that place as a sacred site! After a surreal feeling from the elevated viewing deck, then on descending to street level, I felt directed by a phantom tingly tap on my shoulder by such a huge ghostly finger of fate, toward a deeper commitment to art - finally! But how to proceed became, and remains a conundrum. I mean, I have duties and responsibilities to my family! For example, two children who need sustenance, a regular wage. Even though I'd go on to sell a hundred paintings by 1996, they were not for huge sums. I needed a consistent income. So I met such real challenges by the privilege and good fortune of two careers, a social work career, (and monthly salary), and an artist's vocation that mostly cost me rather than supplementing me! I mean, artist's materials are quite pricey, and as suggested, at that time in my career I was selling my paintings cheaply for ten, or twenty, sometimes if lucky eighty pounds - not enough to fund a family!
Admittedly I did have a breakthrough in the late 1990s with notable wealthy collectors paying several thousand for each of my paintings but those fortuitous occasions were rare. I still needed a social worker's wage to pay for everything. So I made a serious commitment 'to go for it' in 1995 when I resigned from social work, sold my house, and set off around the world to paint sacred sites, (my children came later). I had jumped into art with both feet now! Soon I'd return (after a year), and go to art school.
4. What mediums do you work in and are there any new mediums you would be interested in working with in the future?
I love using pencil, charcoal, oil and-or acrylic paint on paper, canvas and wood. I have dabbled with papier-mache, clay, wood, and currently working on painting pots. It is, though, oil paint that stirs my stomach, propelling me to paint. It appears the most consistent medium for me for over four decades, (and counting).
5. Who have you met in your career that has changed things about you, your style of work or maybe your processes and self-development?
Several influences during art-schooling in London 1998-2004, (Art History at Birkbeck, supplemented with Slade summer schools). Then in 2003 meeting the London artist, Shaun Caton, who ran a creative workshop at Homerton University Hospital, Hackney.
This was primarily dedicated to people recovering from brain surgery. I worked there over a three month period. Shaun generously enabled me to test the theory of my dissertation in practice, by allowing me to lead once weekly workshops based on my mantra, 'the brighter the colour the brighter the mood'. My hypothesis was proven, (a book followed called 'Colour Theory Made Fact). This helped build a confidence in me that people were helped by bright artwork, and that I then had direction in my art career 'the brighter the colour the brighter the mood'. So, in addition to Shaun, it was all of the people I met at that time. I had developed an understanding of the need to merge theory and practice! So I did, and still do!
Finally, regarding this question, it would be remiss of me not to mention Gordon Farmer and his Manchester City Centre modern art gallery, 'Delacey Fine art'. From summer 2020 when Gordon evaluated my work, we have regularly sold, from commissions to brand new collectors buying my work for the first time. One sale on average, approximately every 5 - 6 weeks from that time.
I consider this to be a significant achievement and it is thanks to Gordon's gallery, his ambition, enthusiasm, on one hand, presenting the work in well-matched frames on the other. He has preserved throughout the covid restrictions which have been inspiring to myself as well as colleague painters. 'Onwards and upwards' he reassures. More than this he has made himself available to me for 'art-chats' in person, on the phone and by email and text. Giving me advice and much encouragement too, stemming from his wide knowledge of art history as well as contemporary art, significantly northern art.
Being 'out - there' as an artist can feel a lonesome job occasionally, and so with a backer like Gordon, (coincidently my namesake), is a priceless feeling. All of these things have assisted my recent development.
6. How do you choose what to create, and how long does it take you from conception to finish?
I think about compositions for ages and ages, even years - no kidding. The actual laying of the paint down is a relatively quick process by comparison. So some paintings I can finish in a day, mostly though, a week or two. But, as said, the paintings have already been painted in my mind's eye, often many times over many many months. Other than that, a fundament to my work is architecture, from terraced houses to Hindu temples, Islamic Mosques, Gothic Cathedrals. These are the places where people like me live. Attend to pray in the hope of adding, or at least making sense of life that can be otherwise confusing and-or, mundane or both. Art helps sort out that mishmash! I paint architectural shapes as their design is approved by most people. And, so, I hope my paintings will also be given the thumbs-up by utilising such templates.
Aside from that dream, I just love painting such stable structures, but quickly to add, I love painting trees, land, town and seascapes too. Having said that, I quite like turning out a still-life, a portrait also, occasionally a self-portrait also flows off the easel to boot! Damn it, I just love painting!
7. Which work that you've created are you proudest of?
Rather than singular paintings, it has been novel bodies of work that I'm proud of. For example, I have created arts projects such as the 'Sacred-Sites' series, (having so far visited 58 countries to paint sacred sites from differing cultures and faith traditions), to contribute to the idea that they are built for the same reason - to unite people!. And this 'Sacred-Sites' project has had a national tour of provincial galleries, 1998-2003 with a fresh tour in the offing. In an effort to make a contribution to the world, and indeed the world of art, I have visited such far-flung places like the great mosque Timbuktu, Pitcairn Island 7th Day Adventist Church, Mount Keyna sacred sites, Golden Hindu Temple, Varanasi, as well as sacred sites nearer home like St Basil's Moscow, the Great Mosque and Cathedral of Cordoba, Spain, Westminster Abbey, London. Painting such sites was a pleasure and privilege.
Another arts project generating pride was bringing the 18th Century 'Bounty' mutineer, Fletcher Christian to life by creating the world's first portrait of him. This followed a 3month visit to Pitcairn island 1993, then soon after working with Merseyside police on their identikit computer 1994, to reveal a facsimile of what he may have looked like. With the help of the police, I merged images of his ancestors with his descendants into that electronic gismo - Fletcher's face emerged. World-wide interest followed in what nowadays we would refer to as going 'viral'.
Other art projects have been made, such as the 'Daubs' projects utilising my mantra 'the brighter the colour the brighter the mood' with local authorities in Liverpool, Bolton, Hackney, Oldham (x2). Whereby I led local authority user groups with a series of arts workshops to produce bright paintings of their favourite local places. Group exhibitions followed at such places as Bolton Museum and art Gallery 1999, Greenbank Project Liverpool 1994, Gallery Oldham 2008 and 2016. But if I had to choose a singular painting rather than an art project, it would be any of my recent Rusholme Reflections series paintings. I honestly enjoyed every brushstroke of every recent Rusholme painting. Okay, if pushed, it was 'Rainy Day Rusholme' that gave me, (then and now), the most satisfaction. I continue to build on that strength and enjoy making more Rusholme paintings. I don't think I'll stop building on this series anytime soon.
8. Which piece of art that you own is the most special to you?
Hands down it is a drawing my dad completed when he was 16years of age in 1944, of two blokes, (one a waiter), from the Queens pub on Poulton Rd, Fleetwood.
9. Which museum exhibitions have you been most impressed with and why?
The recent immersive Vincent van Gogh exhibition in Salford. The curators did a magnificent job along with the technical staff and equipment that brought to life the paintings of Vincent on massive screens. I loved it also because it was shown in Salford, the place of mine, and many others, our art hero, L.S. Lowry. Couldn't be better!
10. What are your goals for this year?
This year 2022 has involved a three-month art-road-trip, (Jan to March), through Spain. Starting in the North with Bilbao (and the Guggenheim), to the meddy in the south homaging a flavour of the Fauves, while creating my own sunshine paintings in my art-van en route! Then in a clockwise motion around Spain back to the north coast and a ferry boat to blighty on the 28th March. My goals this year are to build on the many sketches made in Spain as well as complete more Rusholme paintings in the studio at home.
11. If you could own any piece of artwork (money is not an issue), which would it be and why?
I'm wrestling with this question between Lowry's, 'The Match' and Vincent's 'Starry Night' to hang on my wall. So, on the basis that stars are unreachable, I'll settle for, 'The Match'. But hang on a mo, this painting of Lowry's has become a 'star' in its own right so it remains a toss-up. Okay, I'm a northern bloke, I love Vincent, but I'll choose Lowry's 'The Match!'