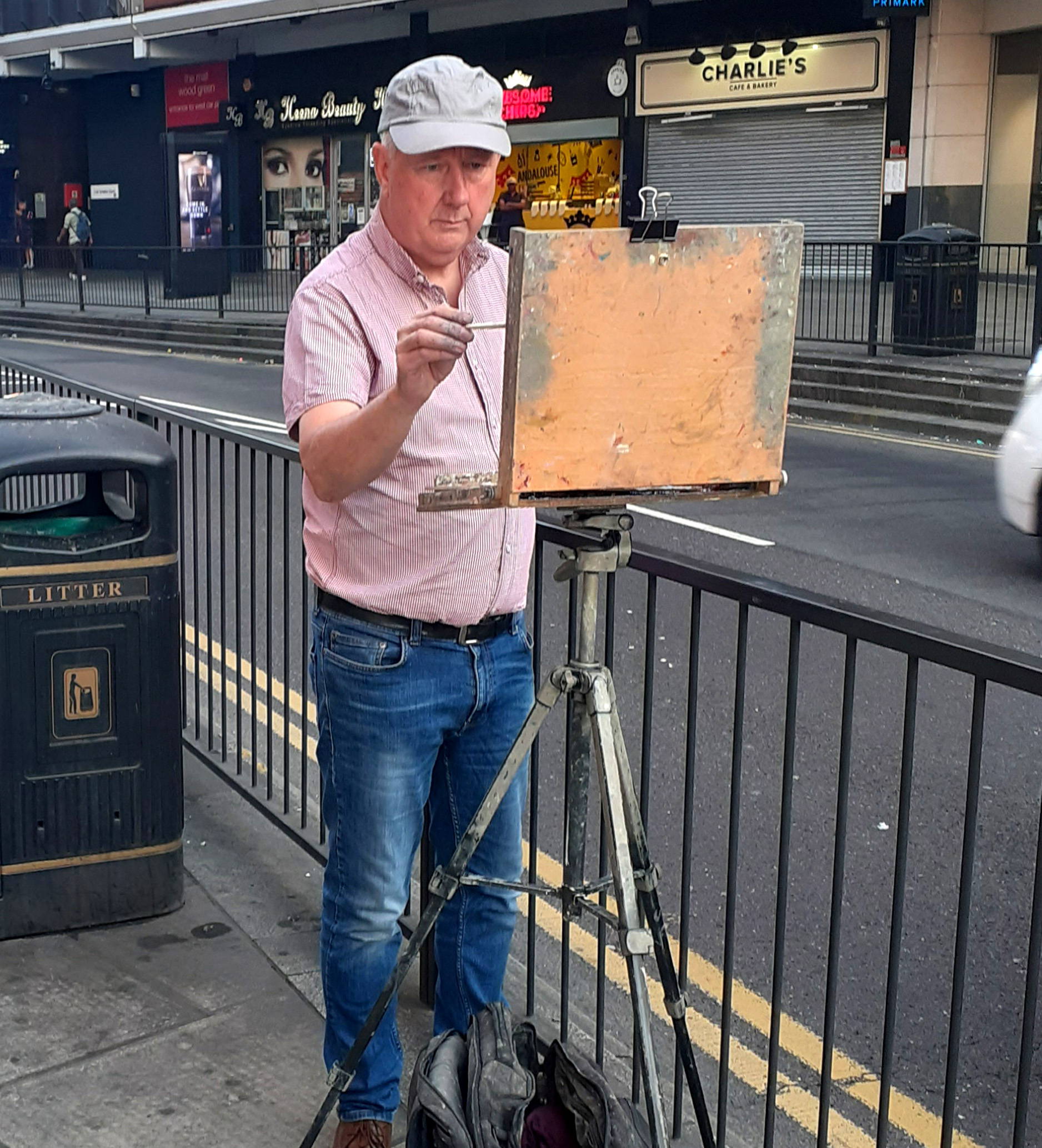 The third instalment of our series of interviews goes to Ian Layton. Ian is a Plein Air painter from Yorkshire. All of the work he creates is done at the locations they depict and are expertly worked. Ian paints lots of cities and locations all over the world, from Spain, France, and Italy and of course his native United Kingdom.
Let's hear his story...

1. What age did you begin drawing and painting and how were you influenced?

I can't really remember the age I started to draw, I think it's just something I have always done, probably from the age I could first hold a pencil.

2. Which artists were your biggest influences and why?

My brother was a huge influence on me growing up, as he was a very impressive draughtsman, so seeing his work always inspired me to do better. Of course, my teachers at school were also a huge influence on my career choices and helped give me a good start in understanding the fundaments of painting and drawing. Of all the great painters that this Island has produced I think that Edward Seago, Stanhope Forbes, and John Singer Sargent are the ones that I look up to the most. There are many others, but particularly the above three, their mark-making, design and colour pallet have always astounded me and given me something to think about and strive towards.


3. When did you decide that you were going to seriously pursue a career in art and what challenges did you face?

I was in my late 20s and had enrolled in an evening art course at Doncaster Art College, this was when I met the tutor David Curtis who became my mentor for many years.

I was a mechanical engineer at the time and started to exhibit with galleries in London and Yorkshire. My work was being accepted at the Royal Academy and many of the other Royal Societies. It was a very exciting time, and this early success gave me the confidence to believe I could make it as an artist.
My work was selling well and after much deliberation, I took the leap and gave up my engineering career and became a full-time Artist in my forties. Being an artist you have to wear many hats, it's not just a case of painting, there are many other important considerations such as marketing, sales, book keeping, accountancy, purchasing, time management etc.


4. What mediums do you work in and are there any new mediums you would be interested in working with in the future?

I am a painter who works predominantly in Oils and I don't really pursue any other medium as 95 % of my work is Plein Air, oil paints for me is the perfect medium.

5. Who have you met in your career that has changed things about you, your style of work or maybe your processes and self-development?
I have met many artists that have become close friends and have influenced me and indeed are still influencing my work today. I will name but a few, all the Northern-boys, David Curtis, Pete Brown, and of course Ken Howard.

6. How do you choose what to create, and how long does it take you from conception to finish?

My work is essentially about light and dark, being a plein air painter I look for subjects that excite me, particularly painting into the light. Many people don't understand the difference that painting into the light can make to the subject, with the light is coming from behind you it makes a different image altogether, but painting into the light gives a greater degree of richness to the vista and more contrast of colours. When painting outside in front of the subject the execution needs to be at a brisk pace, as there is a maximum of 2 hours before the light renders a completely different subject from the one first viewed.

7. Which work that you've created are you proudest of?

There are a few paintings that I felt at the time had hit the mark, but I hope my best work is yet to come.


8. Which piece of art that you own is the most special to you?

The most special price of art I own is a small painting by the esteemed artist Trevor Chamberlin, my Mother purchased this as a birthday present for me over 20 years ago and I still treasure it today.

9. Which museum exhibitions have you been most impressed with and why?

I attended a Singer Sargent exhibition with my wife Carran about 20 years ago at the Tate, it took my breath away.

10. What are your goals for this year?

My goals for this year are the same as in previous years to enjoy life to the full, loving and making time for my family, meeting friends and painting as often as possible.

11. If you could own any piece of artwork (money is not an issue), which would it be and why?

For me it would be Venice in Grey Weather by John Singer Sargent, it's a painting I've always loved and a subject that I've been lucky enough to paint on a few occasions so it really resonates with me.