It's been a busy news week in the art world. Unsurprisingly, the headlines have focused on the money and not the art. News outlets know that people find it hard to believe the staggering amounts of money that will be paid for objects of art and it becomes even more outrageous when it's someone like Jeff Koons, (a living artist) whose work has hit a new financial landmark. Between the two sales that caught all the headlines, Monet definitely had an easier time than Koons. Not just because everyone knows Monet's paintings are exceptionally valuable but because they see something beautiful, they see something historic which can only be viewed by them in a public gallery and is clearly created by the hand of a genius. I'm in no way saying that Jeff Koons is none of those things, but his work has a very different style and receives a completely different public reaction.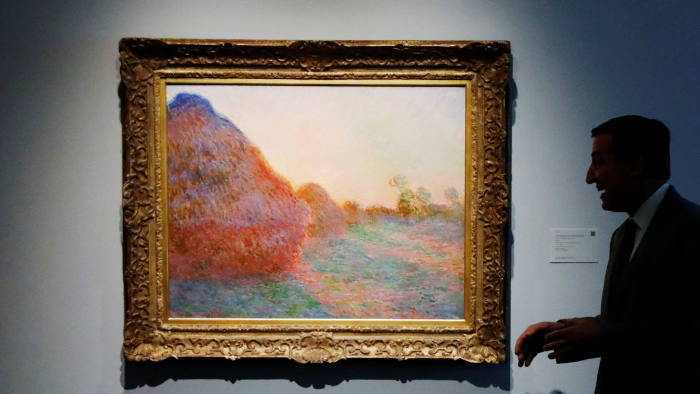 Image: Financial times and Reuters
So let me begin by saying that Monet's Haystacks is one of my all time favourited paintings by the Frenchman. It's a close tie between the Haystacks and the Cathedral at Rouen (please don't ask me to choose which of the two I prefer). Both paintings are part of a series depicting the same locations at different times of day or year. This version of Haystacks I had always seen in books on Monet and the colours just leapt off the page. Those beautiful tones of Orange and Yellow bursting across the canvas and filling it with an almost translucent glow. This painting screams quality, it demands attention. I've seen varying reactions to the price it commanded at Sotheby's and the truth is that $110 million is a lot of money.
There are twenty-five Haystacks paintings in this series by Monet, twenty-one of them are in public museums and national collections so of the four that are in private hands I see no problem with them being sold. After all, this isn't someone buying a painting for one year and selling it 5 years later for a profit. This particular Monet has only been sold three times in its life (this being the third). It was bought directly from Monet's art dealer by a family and there it stayed right up until 1986 when they decided to sell it. Which they did for $2.5 million. The next time it was sold was 15th of May 2019 for $110 million. Now let's take a look at the middle owner. They had this piece for 33 years and eventually decided to sell it, and I'm under no illusion that they must have had regular calls from all the major Auction houses in New York to put that painting in their biggest sales. $107.5 million profit isn't a bad return on a 33-year investment, it works out at a 4300% increase on their initial investment which in turn works out at 130.3% per year increase.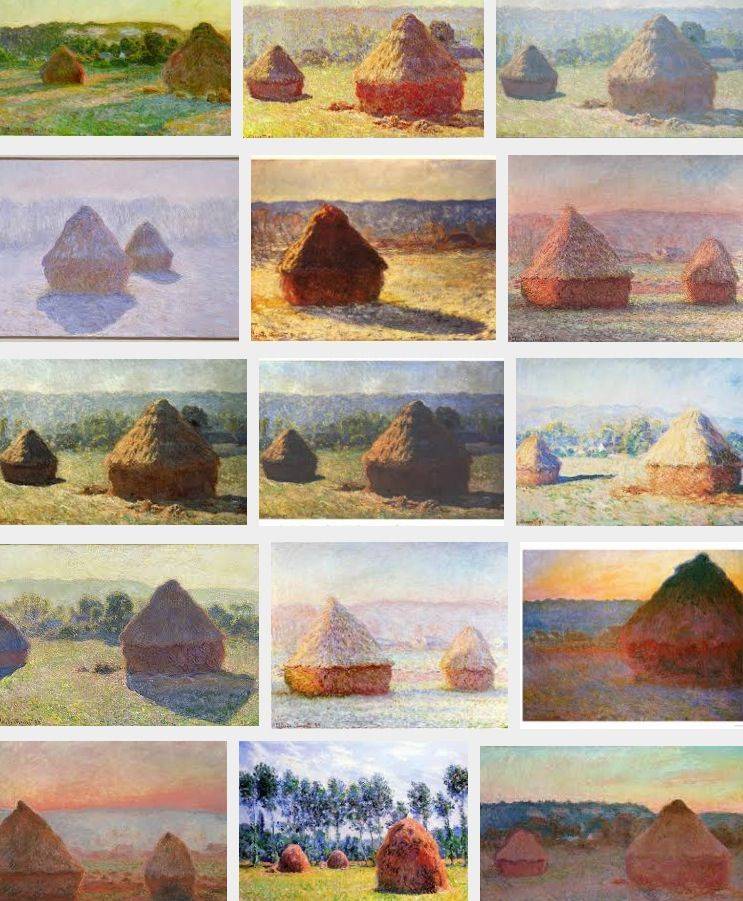 The great thing about art collecting is that you get to keep the item you're investing in. I heard a businessman tell a story once about someone who invested in gold and asked the broker to show him the actual gold that he owned, he wanted to physically see it. The broker assured him that the investment was proper and correct for his portfolio but he couldn't show him the actual gold he 'owned' as they didn't trade on products and the amount he had invested was so large that there was nowhere that had that much gold in one place. While this was going on the family that owned Haystack by Monet were enjoying it every day on the wall in their home.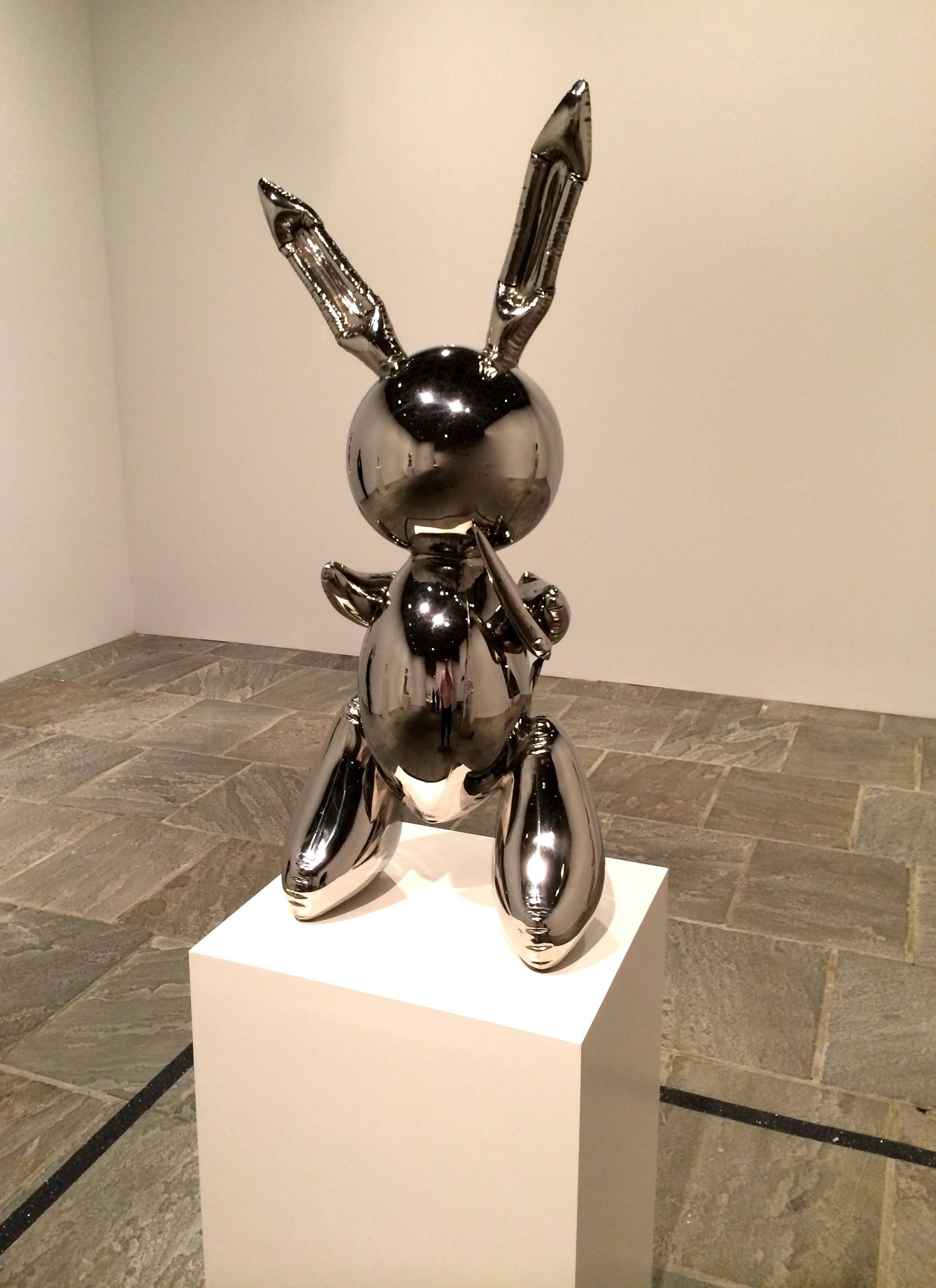 Now we come to the other headline grabber and I know that this one has got under peoples skins, as several people this week have brought up the 'Metal Rabbit'. Let us start by saying that comparing Jeff Koons and Claude Monet are like comparing apples and oranges. Other than the fact they're both very successful artists there's very little they have in common. Jeff Koons has had a massive year, he began with a special show at the Ashmolean in Oxfordshire but strangely it wasn't a carefully planned and long coveted event by the Museum, it was the Oxford students which pushed for the American artist to have his first UK show since 2009 when he exhibited at the Serpentine. This show is still on in case you wondering, it is open until the 9th June so there's still a little time to go and see it. It's been a meteoric rise for Koons in the last decade his first record-breaking auction price was in 2013 for one of his balloon dogs, this fetched £36.7 million. It made Koons the most expensive living artist on the planet. That mantle had been taken from him by David Hockney at the beginning of this year. Although last weeks new record from Koons see's the mantle returned to the Sculptor by beating Hockney by $1 million with the $91 million that billionaire businessman Steve Cohen paid for the Metal Rabbit.
The American art critic Jerry Saltz vehemently scalded the buyer on Social media in his usual colourful way. I know it sounds crazy to talk about these figures for art, and there's always a massive backlash from the public when we get stratospheric with auction results. However when you look that Premier league transfer spending for 2018 and 2019 you see that the league (and this is only the top league) spent £1.5 billion in transfers for football players. No one seems particularly bothered by this. I think it all boils down to perspective, if you're a football fan you accept the 'crazy money' that's spent on talent and if you're a fan of art then you accept that every now and again we're going to see someone spend big on something important.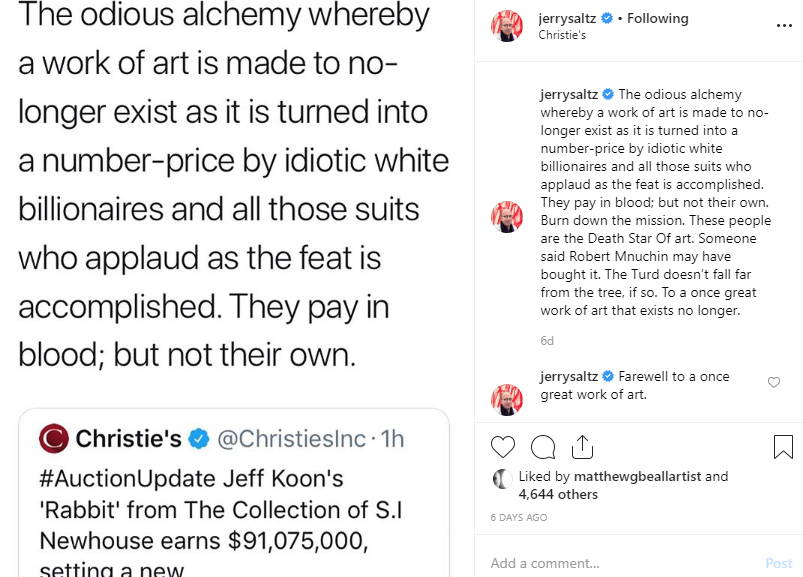 Whatever your opinion on the money I think that both the buyers have bought two exceptional pieces of art.