Having worked with Jerry for nearly a year now and knowing the hard-working person he is, I wasn't surprised when he told me he'd written a book. It was however, slightly surprising to be asked to write the foreword for it.
From Rusholme with Love was a title I came up with for a show with Jerry which was slated for 2020 but when the world came to a screeching halt in March it became evident that we weren't going to able to do it. Jerry asked if he could use it as the title for this book, which I was more than happy for him to do.
We are currently working a plan for a new exhibition this year in 2021 which we will keep you all informed about via the Newsletter and the usual communication avenues.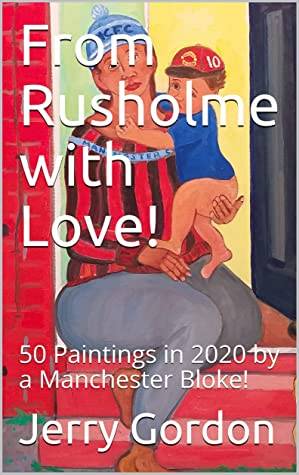 The book is a snapshot chronicle of Jerry's life and thoughts over the most tumultuous year for everyone. Jerry's coping mechanisms are as you would imagine, found at the easel. His work is a great outlet (and sometimes cause) of frustration. What Jerry managed to do in 2020 was take advantage of the fact that he had a year of his life to work on himself and his paintings. At the start of the pandemic, I advised many artists (some I represent and many I don't) to see it as a blessing and to take the opportunity to explore new avenues of work and to develop their portfolios while they were free of the constant bombardment of commissions, overbearing gallerists (sorry) and all manner of everyday nuisances that can stem the flow of creativity. Those that took my words to heart have taken leaps forwards in their development whilst others seem stagnant and stuck in the same groove they were in 2019.
Jerry took the ball and ran with it, thinking outside the box and creating new paintings and exploring new mediums.
The book which can be purchased on Amazon is an example of that. I would advise anyone who owns one of Jerry's paintings, prints or drawings to invest in the book, it will certainly give you a good view of Jerry and what his 2020 was like.
We have some very exciting new works from Jerry coming soon and I look forward to sharing them all with you.
From Rusholme with Love can be purchased from Amazon at the link below.
It is just £1.90 and if you are so kind as to buy a copy, please leave a review for it and share the link with your friends.