As I sit at my desk staring between the computer and the window, I find myself struggling to come up with an apt blog this week. I could begin another long series of blogs on some of the artists I stock, but that would mean committing to at least three weeks of writing when I intend this to be the penultimate of the current year. You can see my predicament.
I thought it's nearly Christmas, so why don't I do something along that line. I usually veer away from religious commentary's, but I liked the idea and thought - let's begin as I always do with googling, 'Christmas art' and then seeing what images I get. I urge you to try it, if for no other reason than to be astounded at the horrific quality and sincere lack of imagination on these 'creators' parts. So that Idea went in the bin. I then thought - well I just visited the National Gallery and saw some paintings that depicted the winter months, which strangely I have a huge predilection for. I have no idea why, but give me the choice between a painting of a sunny day and a snowy one and I will pick the snow scene every time. Case in point - the new Simeon Stafford painting that will be coming into the gallery in the next few weeks. (no you're not seeing yet, unless you're on our mailing list and received our Christmas Card in the post then you'll have seen it)
So let's start with one of my all-time favourite artists - Katsushika Hokusai. The great 18th Century Japanese printmaker and artist. The man who inspired the Impressionists and countless other artists over the subsequent generations. Here we have a woodblock print by Hokusai which shows a pair of Cranes, stood on a hillside surounded by Pine trees in a very heavy snowfall. This print was created in the Edo period around 1834. Whats unique about this piece is that this woodblock is not one of the usual Hokusai prints. He is most famous for his crashing waves which was one in the series '36 views of Mount Fuji'. Staying with my tenuous winter theme, we can see the weather conditions in the woodblock, as the ground and trees are covered in a picturesque blanket of snow.
This woodcuts charm is in the subtle colours and composition, this image has been massively reproduced on everything from advertising, to T-shirts, posters and Tattoo's. Hokusai's simple use of line and colour give his genius composition an incredible grace and beauty.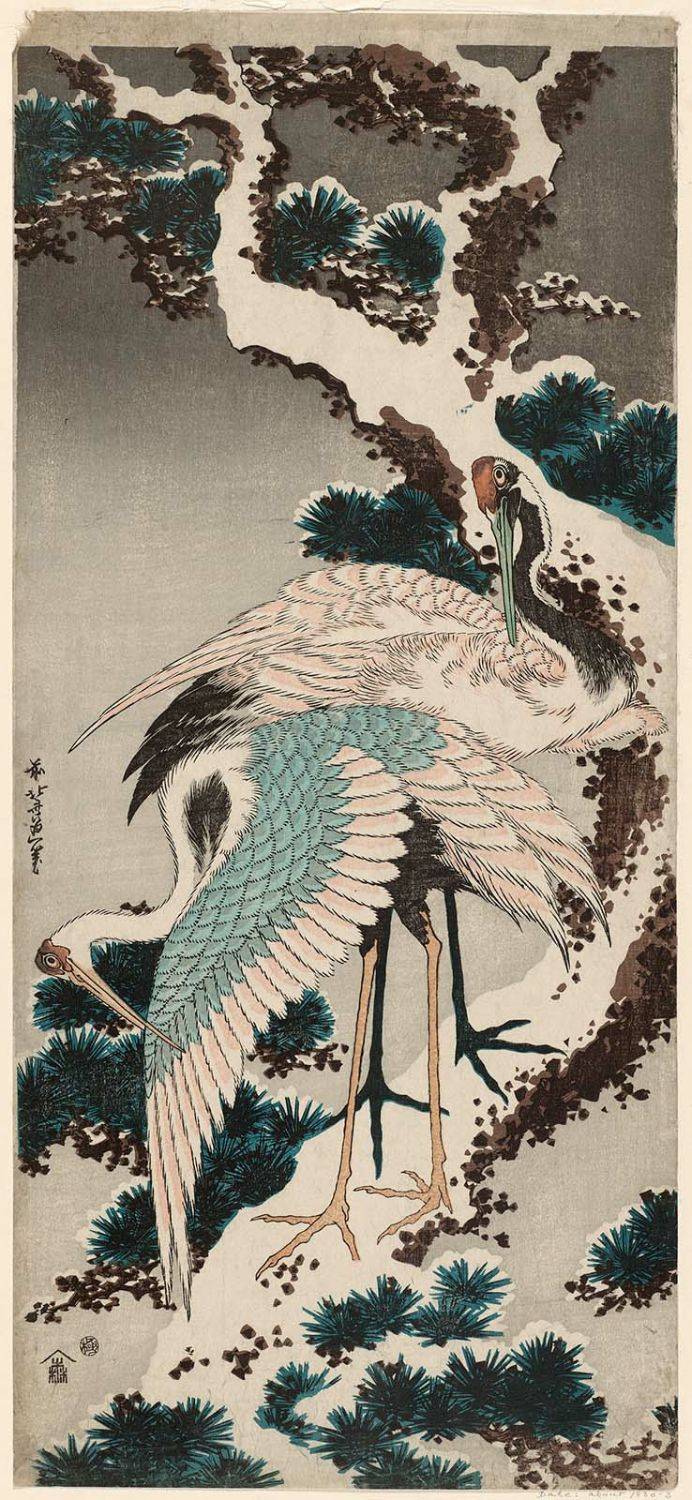 Katsushika Hokusai - 雪松に鶴 Cranes on Branch of Snow-covered Pine.
Next, I shall include two paintings by one artist. None other than the great Claude Monet himself. Monet was one of the original Plein Air artists and he suffered greatly for his calling. indeed I once read a letter he wrote to his wife when he was working along the coast of France, far away from home. In the letter, he recounts how he was capturing the viciousness of the sea against the rocks on a canvas, and to get the best view of the scene Monet perched himself on a large boulder with his easel. He said he was so captivated by the vista that he hadn't noticed that the tide had begun to draw in, and then a large wave crashed into him and took him, his easel, and paints into the water. He laughed about finally returning to his lodgings bumped, bruised, paint in his beard and clothes soaking wet. I would imagine that neither of the paintings we're looking at here would have posed him as many problems. The first image I've included because I saw it two weeks ago in the National Gallery in London, and what a stunning painting it is.
Titled 'Neige a Argenteuil' this is one of 18 paintings Monet did that winter of his hometown. It captivated me in the National Gallery, such a beautiful painting and yet such a common subject. The genius of Monet takes the mundane of a walk through the snow and turns it into romance and intrigue.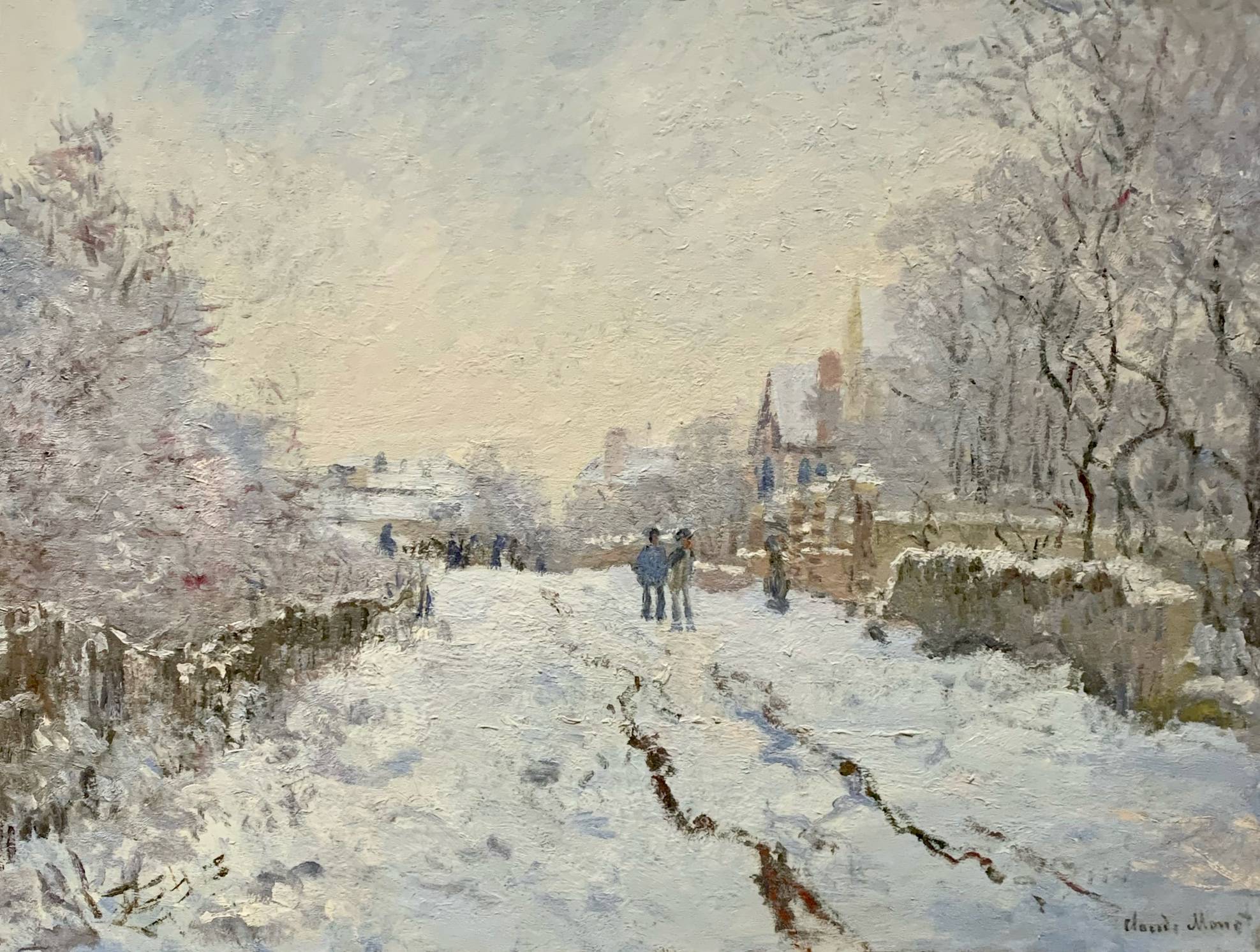 The second choice for Monet as anyone who has read my previous blogs will know I have a very strong love for his passage of time paintings - the haystacks in particular. This winter paintings of his familiar muse are the same as the others in the series, but as with each of those paintings, it's completely different. not just because he's added snow to the image, but because he's changed the light, the shadows, the colour of the hay which has reacted to the adverse weather. There's so much more going on in this painting than meets the eye.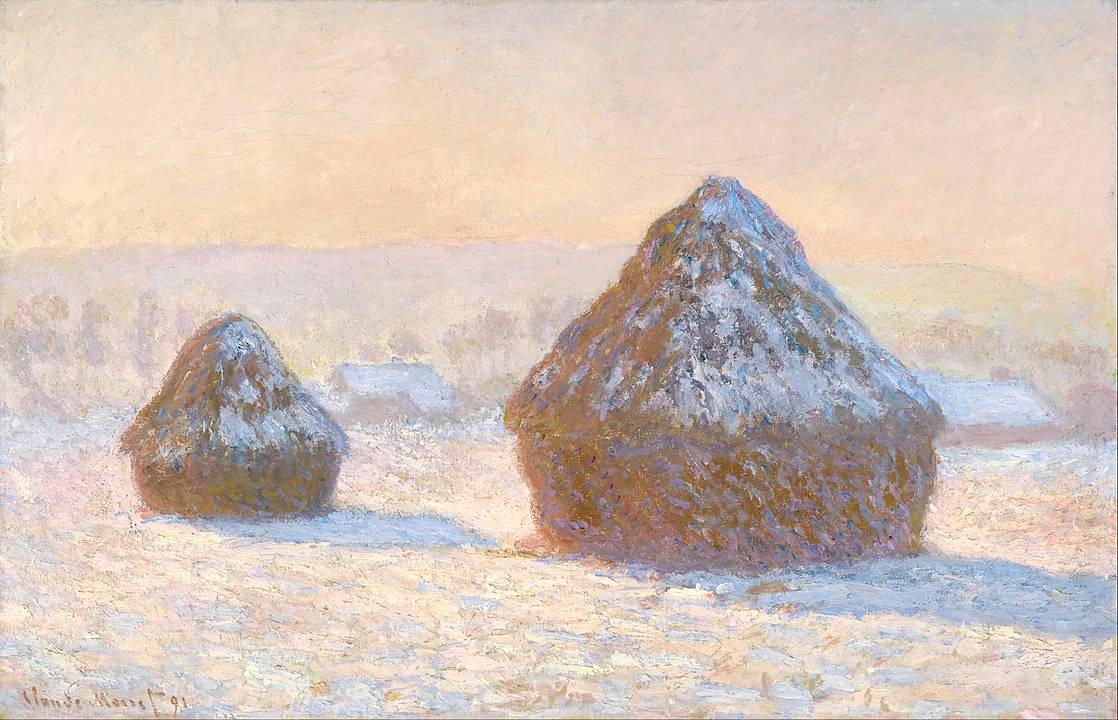 By Claude Monet (French, 1840 - 1926) (1840 - 1926) – artist (French)Details of artist on Google Art Project - wQFHCfdy-IlhFA at Google Cultural Institute maximum zoom level, Public Domain, https://commons.wikimedia.org/w/index.php?curid=22178614
The next Winter artwork I want to discuss is by another Master of the canvas - Vincent Van Gogh. The painting we're looking at was completed in 1883 when Vincent was living in Neunen a small-town North East of Eindhoven. Vincent lived for just two years here, but this was his most productive period of work, he produced over a 1000 different pieces of art, including paintings, drawings, lithographs and sketches, some of which were included in letters he wrote to his brother Theo. This is a charcoal and watercolour depicting a winter scene in a churchyard. It's monochrome in colour but Vincent captures the feeling of winter brilliantly in this drawing. The way the woman is wrapped up in shawls and the man is wearing a heavy cape or overcoat. Vincent adds the winter feel to the drawing by accentuating the image with white watercolour marks, he makes just thirteen individual marks to convey the ice and snow. The rest of the image with its black lines gives us everything we need to know to appreciate the coldness of the scene.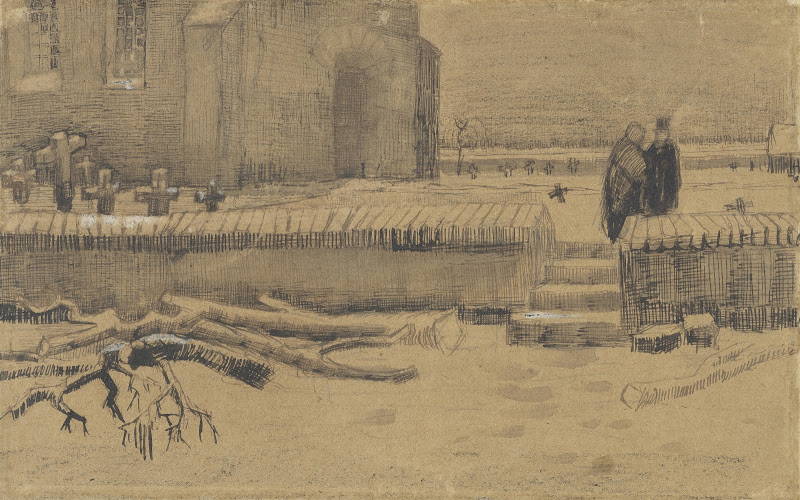 Vincent Van Gogh - Churchyard in Winter 1883
Moving on to more modern times, I've chosen a 2009 painting by David Hockney entitled 'Winter Timber'. This breaks from the norm in many ways, firstly it's a painting on no less than 15 canvasses, secondly, Hockney breaks the habit of a lifetime and paints Plein air, not from a photograph. Thirdly, there's actually no snow in the painting (which is very true of modern winters). Lastly, there are two vanishing points in the composition as the road leads to one, and the rows of timber lead to a second. Compositionally this breaks the traditional singular vanishing point of landscape paintings. I've long maintained that Hockney will be recorded as the greatest British artist to straddle the 20th and 21st Century. He's done it all and to a massively high standard.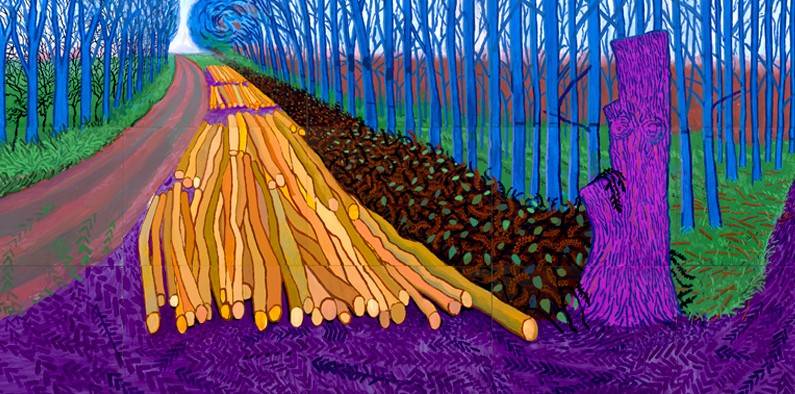 David Hockney - Winter Timber 2009
Lastly, this week we had another well-received work of street art by the ever-popular Banksy. As in previous releases of his public stunts, the work is accompanied by a well-produced video. The artwork is two Reindeer leaping into the sky pulling along a sleigh, although in this instance the sleigh is a park bench and instead of Father Christmas we have a homeless person lying flat, asleep. The work is to highlight the plight of the ever-growing numbers of homeless people on our streets and also to make people think a little about the Christmas they'll be having juxtaposed to the subject of the narrative. After all, it is the season of love and understanding.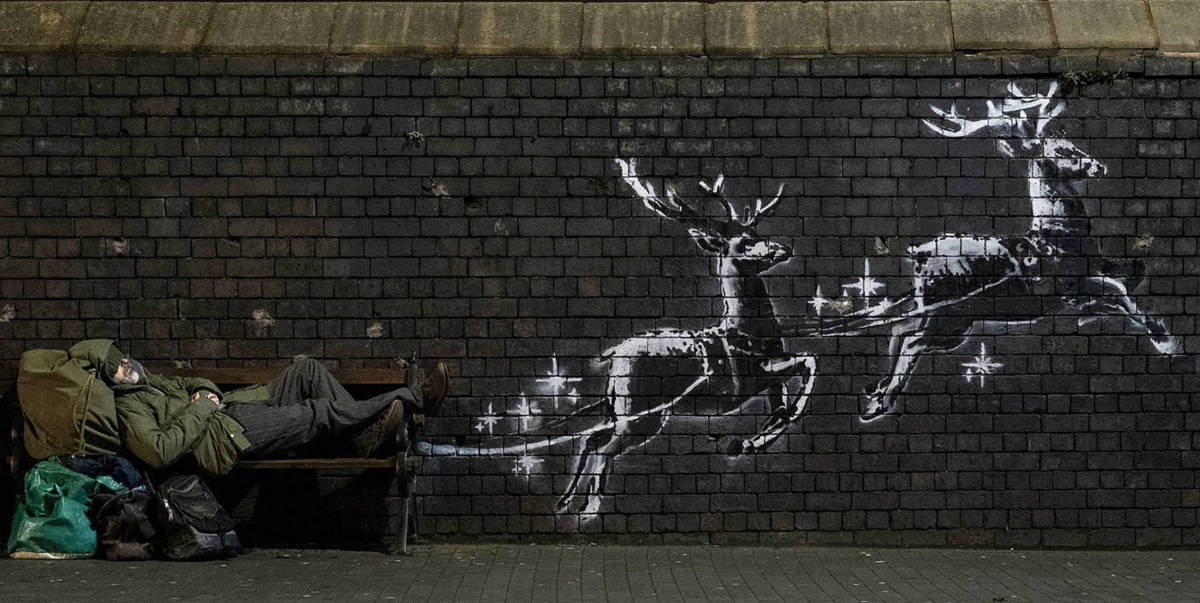 Banksy - Birmingham Mural Copyright Banksy 2019
I hope you've enjoyed this small take on winter-themed works of art. As I said earlier it will be my next to last of 2019. I will be doing one more blog next week for a review of the year 2019 in Art - spoiler, there's a banana duct taped to a wall in that one. I will be back with a vengeance in late January 2020.
So I wish you all a Merry Christmas and a most prosperous New Year. Thank you all for your support.
All Images are mine unless otherwise stated. All opinions are my own and not De Lacey Fine Art's or any other company or body.Festive Art - G Farmer 2019 © Copyright