In the 1970s two female artists were at the top of their game in the world of Sculpture, they were Barbara Hepworth and Elisabeth Frink. Although in the same industry, working the same medium, the two artists were very different from each other in terms of their work. Hepworth had concentrated on fluidic movement and harmony within her creations, whereas Frink had concentrated on the form of animals and humans in a raw and gritty style. If Barbara Hepworth had paved the way for women artists in the Modern world of art, then Elisabeth Frink had done the grouting. The two artists were instrumental female figures in a 20th Century were men dominated the market. None more so than in sculpture where both had to stand in the shadow of Sir Henry Moore who had led the British Sculpture revolution of that period. And what a revolutionary period it was for British art, and women getting a seat at the table. Hepworth and Frink did just that, they made themselves icons of British Art and wove their names into the tapestry of this country's cultural heritage.
Around 1970 her then Husband Edward Poole was worried about the future of his children and decided to get an insurance policy, a man had been recommended to him by a military friend. The insurance broker was Alexander Csaky and according to an article in the Independent in 2013 Elisabeth fell in love with Alexander and they began an affair. When travelling to London for work she stayed with Alexander. Edward discovered the relationship in 1972 when visiting London for one of Elisabeth's shows. He was devastated, and to compound the situation, injured himself by falling and snapping his Achilles tendon. This marked the end of Elisabeth's second marriage.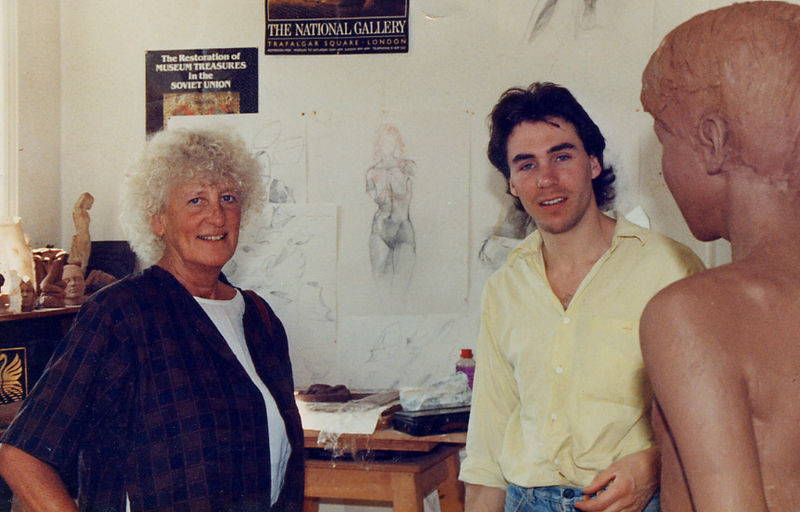 Elisabeth Frink in her studio
The move from France back to London was another upheaval for her, she had in France something she had never before, space. She had a large studio and roaming landscapes to inspire her work, clean country living which was reminiscent of her childhood, and good food which goes without saying in France. However, she had decided to return to London to the cramped city, air pollution, and general hustle and bustle. The art world in the 1970s (and largely today) revolves around London. Today the internet allows galleries to have London clients without physically being in the city, although Bond Street gallerists still enjoy the lions share of the local clientele. In this instance though, it appears that the main pull to London for Elisabeth was a new relationship with Alexander.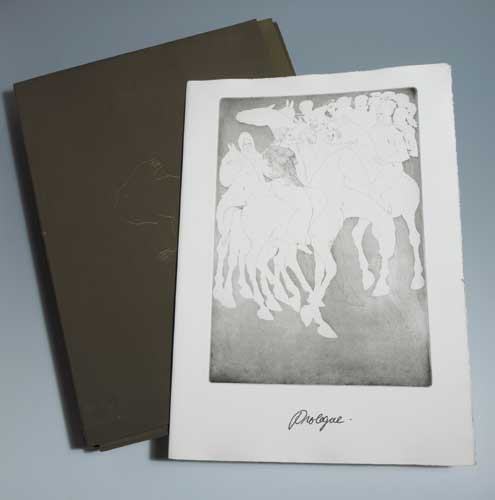 During the transition from France to England in 1972, Elisabeth was asked to illustrate a book of Chaucer's Canterbury Tales which comprised of 19 etchings. This was another landmark for her, she had previously completed the Aesops fables illustrative work in 1968 and on the success of that portfolio she was asked to tackle Chaucer. You may be wondering what the difference is between illustration and graphic work and it's quite simple; Graphic work gives the artist's freedom to create whatever they want in whichever way they want, whereas Illustrative work is done under a mandate and must fall within the client's expectations. Elisabeth found the illustrative work quite restrictive in terms of her creative process, but she enjoyed them and was very pleased with the result. Her only bone of contention was that she didn't care for the format of the Canterbury tales book, she thought it was too large and a smaller square version would have been better.
Her success with the Canterbury tales would spark another commission for her illustrations. in 1974 she was asked by the folio society to create lithographs for Homers 'The Odyssey'. This is a portfolio I have owned and sold through the gallery. It was one of the most popular and successful shows we've ever had at De Lacey. The Odyssey suite is a fabulous collection of her work and those lithographs were typical of her work throughout her career, they showed power, vulnerability, and extreme beauty. These three themes run through Frink's work from start to finish, this was the vein of existence that Elisabeth chose to bring to life. In many ways when you consider the relationships she had and the events in her life, she was well ahead of her time. She was raising the taboo of male mental health decades before it was spoken about. Even today there are huge drives to raise awareness of this subject and to speak openly about it. Elisabeth was well ahead of her time.
In 1974 Elisabeth divorced Edward and immediately married Alexander Csaky. Alexander was a Hungarian Count, horsemen, hunter, and insurance broker. Elisabeth and Alex bought Woolland House in Dorset in 1976 as her love affair with London had finally run its course. Elisabeth needed the quiet of the Countryside and the space to work. Woolland House gave her everything she needed, including her own studio space and beautiful surroundings. In the same year, she was appointed to the Fine Art Commission, this is a body of creative minds which come together to steer the overall view of the Country in terms of iconography and architecture. The Royal Fine Art Commission has been involved in such Great British landmarks as the Red Telephone box, Coventry Cathedral and the Bankside Power station which is now Tate Modern.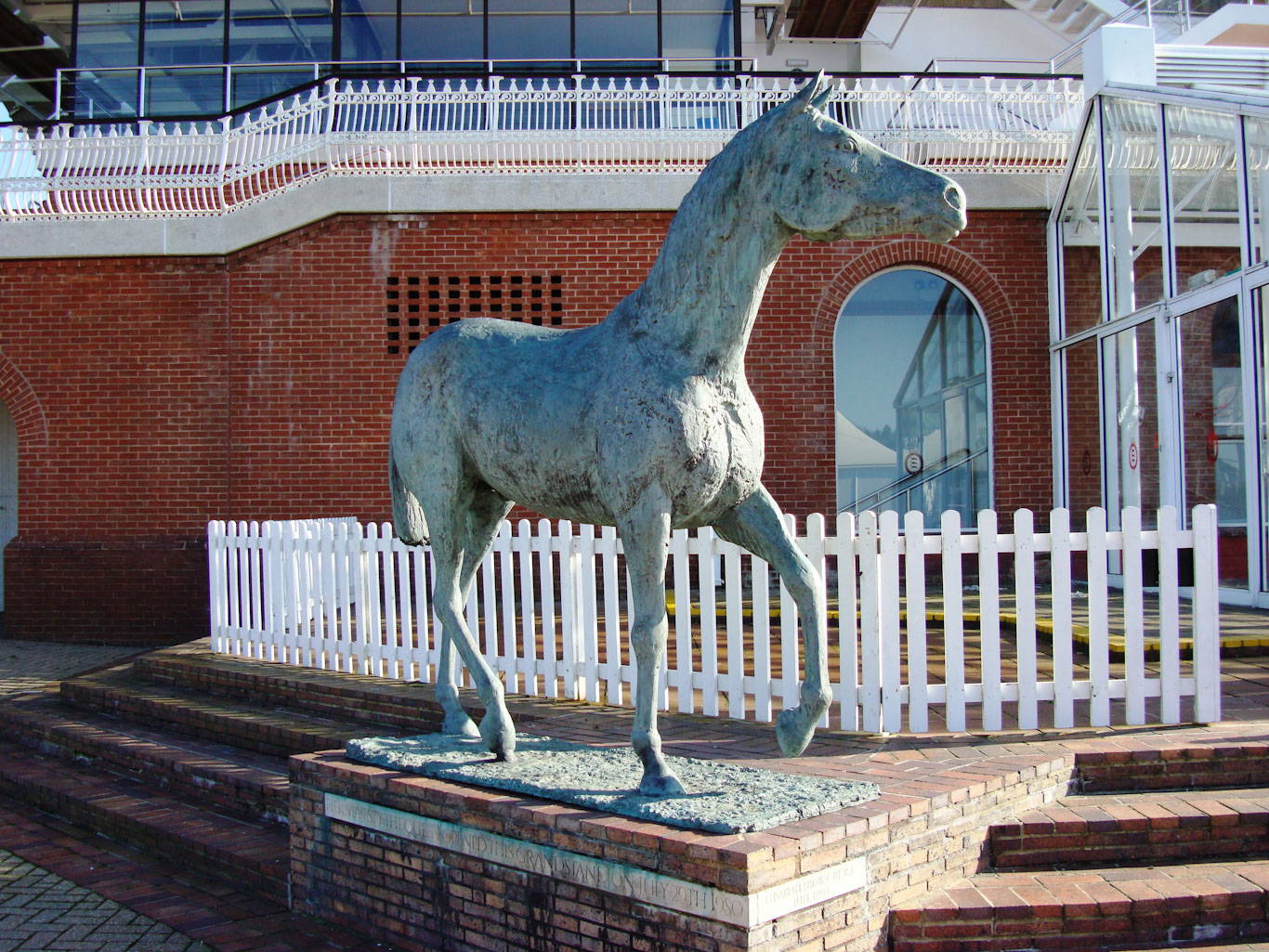 Image - Anthony Macintosh (Creative commons license)
1977 was a big year for Elisabeth as she was elected Royal Academician and awarded an Honorary doctorate from the University of Surrey. Her love of Horses growing up had a profound effect on her work in the 1970s, she had begun working on large scale sculptures of Horses in France and continued that exploration in Dorset in her new studio. In 1978 and 1980 she would receive two commissions for Horse sculptures, one for Milton Keynes and one for Goodwood Racecourse. The Goodwood sculpture was commissioned to commemorate the opening of the new stand at the racecourse and was unveiled to the public by Queen Elizabeth II, who received a smaller version for her own collection. Frink said of the horse, that it was a truly innocent and devoted animal, its use in war by humans over the centuries had been abhorrent, yet these animals were loyal and committed to their masters.
The 1980s had arrived and Elisabeth continued to gain commissions and plaudits including Honorary doctorates from Warwick, Cambridge, Exeter, Oxford, Keele, and Manchester Universities. She saw an upturn in commissions during the 1980s for public sculptures, which proved much more than the previous decade, this shows that her popularity with the public had not wavered. So much so, that the Royal Academy held a retrospective of her work in 1985 which was a massive success and in turn assured that the following year she would have four solo shows and be included in several mixed shows. Just a little while earlier the Royal Academy began a movement to have her installed as the first female president, however, she wasn't interested in the post and let it go to someone else. The 1980s were a hectic time, her life's work had made her famous, and her fame had fed her commissions to produce more work - it was a vicious circle but one that Elisabeth thrived in. She was awarded a DBE in 1982 for her services to Art.
She continued her illustrative and graphic works throughout the 1980s and produced some simply stunning work. In 1983 she was commissioned to complete a set of three figures for a local site in Dorset. The Arts Council had raised the money in the early 80s to pay for it and the local Council along with several other bodies engaged Elisabeth to complete a memorial for 16th and 17th century Catholics who were hanged in the area known as Gallows Hill. Elisabeth having been raised a Catholic and attending a convent when she was a girl during the war was very well suited to do this. She created three figures, two male and one female stood in a circle facing one another. The male figures are stationary, one with hands clasped in front of his body as if protecting himself and the other with his hands behind his back as if open and receptive to whatever may come. The woman is in motion and moving toward the two men her hand rising, outstretched as if she is about to offer them something, maybe comfort or reassurance.
However, another way of looking at the piece is to switch the two men to the aggressors and have them waiting to take the woman away to the gallows which stood on the site where the sculpture now sits. It's a remarkable piece that harbours feelings of vulnerability, compassion, and trust. Many of these attributes have been seen in Elisabeths previous works and she loved to play with the thin line separating the vulnerable from the aggressor, it was the whole theme of her Gogglehead period. In 2017 the statue was given Grade II listed status and has appeared on the list of Britains Top 20 most intriguing places to visit.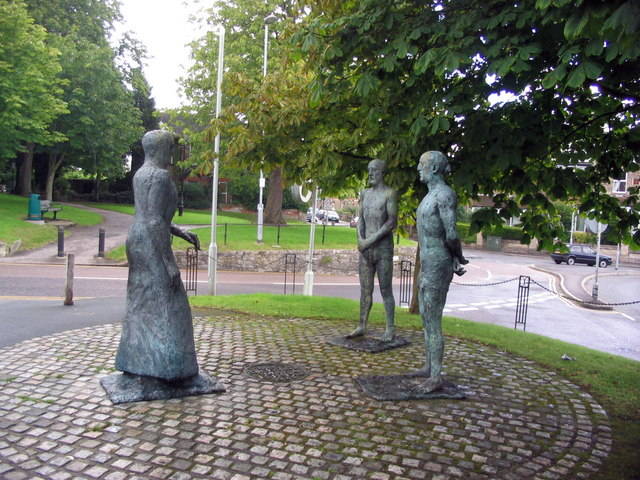 Image - By Stephen Williams, CC BY-SA 2.0, https://commons.wikimedia.org/w/index.php?curid=13061431
In 1991 Elisabeth was working as she always had, flat out and with her usual intensity. She was working on a horse sculpture when she was diagnosed with Oesophageal cancer. She was shaken up by this news and was told that she needed an operation. Elisabeth asked the doctor if she could continue working, and he gave her the go-ahead; so that's what she did. She managed to squeeze a few more weeks of work out in the studio, but after three weeks she was in the hospital for the surgery. She said that the short time between the diagnosis and the surgery meant that she didn't have time to process the news. It was only after the surgery that it sunk in that she had Cancer. The five-hour surgery took its toll on Elisabeth and she became very frail and weak. She spent three weeks in recovery and was allowed to return home. When she first arrived at Woolland House she asked Alex to take her for a walk down to the Pond and it was on this walk she realised how weak she was. It was a struggle. It took her all summer to recover to a point where she could even consider going back into the studio to work. But there was a setback, There was a part of the operation that the Doctors weren't happy with. They found a patch in the scar tissue that caused them concern. This time they would opt for Radiotherapy and Elisabeth was back in the hospital once more. Elisabeth would later say that the Radiotherapy set her back enormously in her recovery. She lost even more weight and became frail again.
Elisabeth scaled back her commitments and resigned from several boards on which she was sitting, for now, she wanted to concentrate on her work and family. She had a desire to travel and to see the world, she was booked for three shows in the USA and she intended to make them special. New York, New Orleans and Louisiana were her destinations. The shows were a great success, and well received by the galleries, buyers and the critics alike.
On her return, she worked on her latest commission which was for Liverpool Cathedral called the Risen Christ. You may look at the sculpture and think that the proportions are odd on it, however, Elisabeth knew where it would be placed and where the viewer would be seeing it from, so made the proportions bigger towards the top and smaller towards the bottom. This way the viewer standing in front of it would have a perfectly proportioned sculpture. Very clever! While she was creating this very monument life dealt a cruel hand to Elisabeth, in 1993 her cancer returned. She was undergoing Chemotherapy when Alex had an unexpected stroke and suddenly died. Then three weeks later Elisabeth had her Risen Christ Sculpture installed at Liverpool Cathedral and it would prove to be her last piece of work. Just seven days after its installation in Liverpool on the 18th April 1993 Dame Elisabeth Frink died of cancer at the age of 62.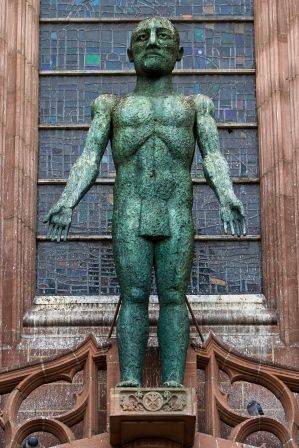 The Risen Christ at Liverpool Cathedral. Image - Pinterest
Elisabeth Frink left behind a legacy of great importance for British Art, Sculpture, and female artists everywhere. She taught throughout her life and gave back to the industry through her relentless volunteer work on various art institution boards. She is someone I wish I had met, as she has been and always will be, one of my hero's. Her work continues to attract new collectors and her public artworks are now so much a part of the British Landscape that many of them have protection orders on them. She has inspired many new generations of artists, particularly female sculptors. I can't help but feel that we were cheated out of at least 20 more years of her work and genius. One thing is for sure, and that is - 26 years after her passing, we are still talking about her, marvelling at her spirit, and her work, and that will continue for many years to come.
Images are not our own and are from various sources - links supplied.
All opinions are my own and not De Lacey Fine Art's or any other company or body.
Elisabeth Frink - Life in Bronze Part III Copyright - G Farmer 2019