The year was 1953, Elisabeth Frink was 23 years old and had already been shown in London Galleries, and had been a runner up in the prize for the 'Monument to an unknown political prisoner'. She had recently graduated from the Chelsea Art School only to be offered a post as a teacher in the Sculpture Department for the following term. She had also cast her first-ever bronze sculpture and then immediately sold it - to the Tate no less. She was young, well connected and under the microscope of the Art world. This is one of those moments where anyone can sink or swim, or get lost in the labyrinth of immediate success and disappear. Frink wasn't that kind of person, she had a drive and a desire to succeed, but more importantly, to create. It was around this time that one of those deepwater situations arose.
Elisabeth had fallen in love with a war hero. We only know him as Arthur, he was quite older than Elisabeth and she described him as a war hero. He was an RAF rear gunner during the War although we don't know if it was Wellingtons or Lancaster bombers he flew. We do know that he suffered Post Traumatic Stress Disorder and was treated quite barbarically by todays standards. He had been given what Elisabeth would describe as "a partial pre-frontal lobotomy" to help cure his depression and fits of rage. What today would be classified as PTSD was written off as being either Shell Shocked or Flack Happy. The rear gunners had it particularly bad as the Luftwaffe would target them to lower the aircraft's defences. Having had the privilege to meet an ex-serviceman who flew in Lancaster bombers as a rear gunner, he used to tell stories about the bullet casings filling the inside of the turret from the ankles up, and as they fell they were red hot and would burn his legs.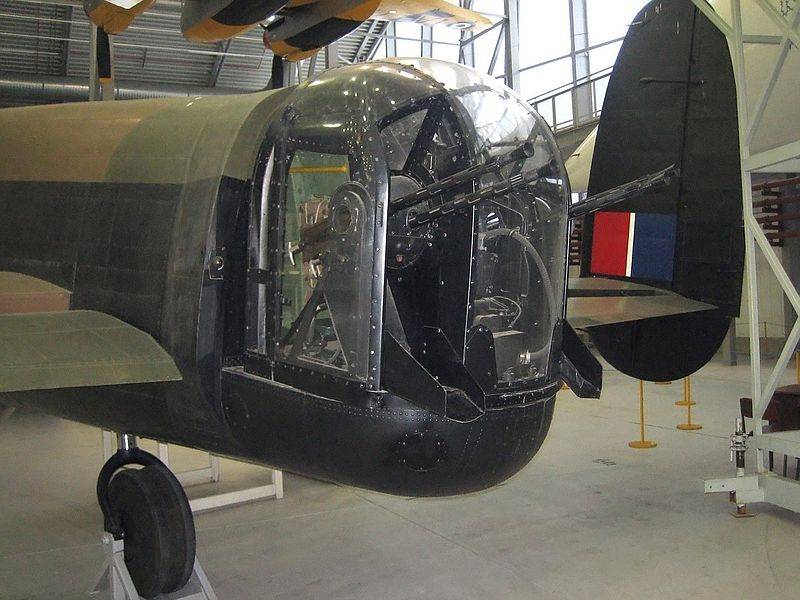 Elisabeth was with Arthur for two years and although they lived together they weren't married, which at the time was a great embarrassment to her strict Catholic parents. Elisabeth believed that the operation on his brain had split him in two. When he was calm he was the sweetest person in the room and when he was angry he would be uncontrollable. He took a myriad of tablets to try and balance his demeanour, but this was the 1950s and the understanding of the mind and medication for behaviour was still in its infancy. Also Arthur was drinking heavily, so who knows what effect the tablets and alcohol could have on him. His violent episodes would scare Elisabeth, she would bear witness to some extreme acts of violence but never fully shared what he did, however, she very clearly stated that he never hurt her, she would always leave the room before it got that far. He would pawn Elisabeth's things for drink money while she was out working, and she never had that much to start with. She would arrive back home to find furniture and other items missing, which had been sold that day at a local pawn shop, and the money would be spent on drink. Arthur would be heavily inebriated and unapologetic, and this would be the cause of the ensuing argument.
Relationships are extremely complicated things and trying to pass judgement on a situation from outside is inadvisable. If I read this about any young woman having to suffer these difficulties I would immediately think that they should leave. Elisabeth didn't. She stayed with him for the duration, and this tells us that she cared for Arthur deeply. She also admits that during this time she was battling demons of her own, and this would be something she didn't share with anyone, even Arthur, who may have been best placed to understand her situation. Elisabeth did the only thing she could and worked through her issues with her sculptures.
By 1955 the relationship with Arthur had run its course and they separated shortly afterwards. Now at the age of 25, she had met a man who invited her to Ireland for the weekend. With her family lineage, she jumped at the chance to go and see the Country. Her Maternal Grandmother had been born and raised in Ireland and her family on her father's side were also of Irish stock. Elisabeth had a great time there, one night in a pub she was introduced to a friend of the man she was with. His name was Michel Jammet and he was of French origin and an architect. Michel's Great grandfather was a well-known chef and had started the famous restaurant Jammets in Dublin which was founded in 1901 and was closed in 1967 by Michel's brother Patrick.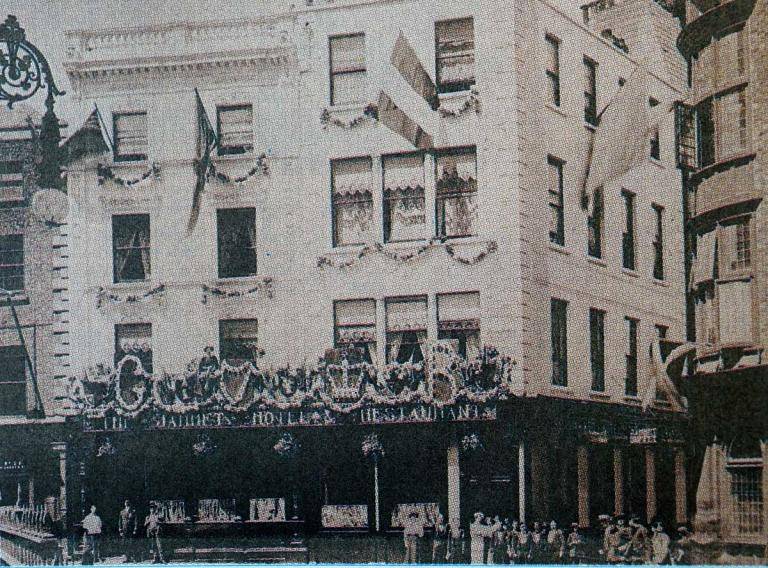 This image is taken from the collections of the Dublin City Library & Archive.
Michel and Elisabeth fell in love and were married that very year in 1955. This was a polar opposite relationship for Elisabeth than she had experienced with Arthur. Michel's family were very well-read and all spoke French at home. They talked about all subjects and had a special love of food. Elisabeth would spend a lot of time in Ireland visiting Michel's family and it was a happy productive period for her, this culminated in her first solo exhibition at St Georges Gallery in London. Two years later she would give birth to their first son, Lin. In that same year, the Tate would buy their second piece of Frink's work, Dead Hen. The Tate followed up a year later with a third piece titled Torso which was added to their growing collection of Frink Sculptures. Elisabeth took just three months rest from work after giving birth and then returned with renewed vigour. Lin would sit in the studio in a cot while his Mother would work. A few years later she would employ an Aux Pair to look after Lin so she could work and he could have the attention that every child craves.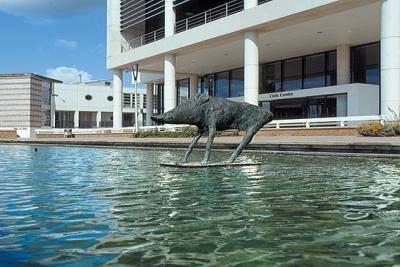 Elisabeth Frink - Boar, Sculpture in bronze, Harlow.
1957 would prove a big year for Frink in many ways, she was now a mother and a wife, she had sold her second piece to the Tate and won her first commission. Harlow New Town had asked her to make a Boar sculpture for their towns growing collection of Modern Art. The commission was a huge deal for Frink and she decided to make the sculpture in concrete. The concrete Boar, however, suffered a lot of vandalism over the years and in 1970 it was decided to cast it in Bronze to stop any further damage being done. The Boar still sits in Harlow today alongside work from some of the most famous sculptors of the 20th Century, including Henry Moore, Lynn Chadwick, Rodin, and Barbara Hepworth.
In the same year, Elisabeth with her reputation growing won another commission, this time from Bethnal Green housing scheme, titled - Blind Beggar and Dog. This was to create an image of the towns famous legend - the tale of Henry De Montford who was known as the Blind Beggar, a 13th Century knight who lost his sight at the battle of Evesham during the second Barons war and was nursed back to health by his wife. He would frequent the town of Bethnal Green and beg for money on the corner of the crossroads where the now infamous pub (where Ronnie Kray shot George Cornell) of the same name sits. An interesting polarisation of that dark reputation for the pub is that the first sermon of the Salvation Army was conducted on its grounds in 1865 by William Booth himself, the founder of the worldwide charity. So steeped in local history is the legend, that the local council adopted the image of the blind beggar as their motif, and this statue by Frink would be a permanent reminder to the residents and visitors to the area of charity and benevolence. It remains there to this day, a popular local landmark.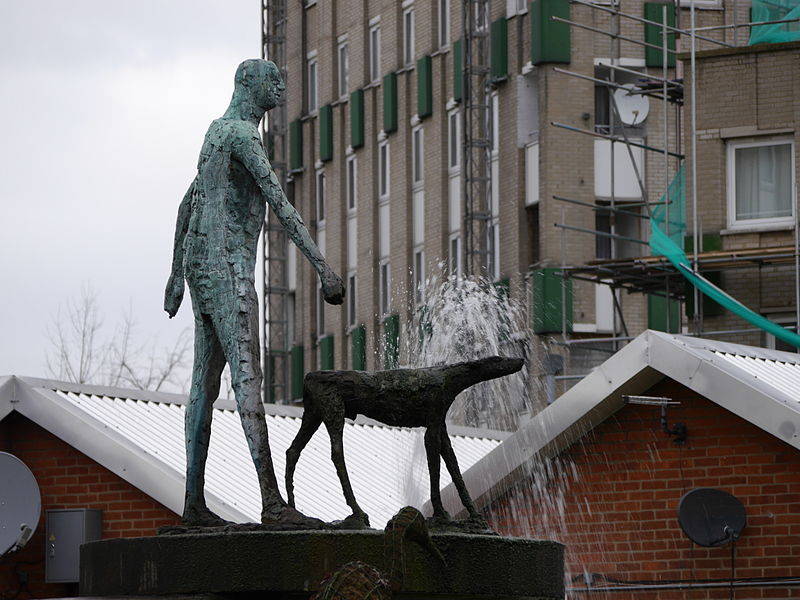 Elisabeth Frink - The Blind Beggar Sculpture in Bethnal Green, Image - Wikipedia
In 1958 Elisabeth's star continued to rise, the work was steady and the plaudits kept coming in. This led to her being signed by Waddington Galleries, one of the major Art establishments in London. Waddingtons was a huge publishing house in the 1960s and Frink's graphic work was sublime. It was a perfect match.
The next big commission was by London County Council for a sculpture for the Sedgehill School in Lewisham. This one has both intrigued and perplexed me, as Elisabeth made a full-size sculpture for the school and it seems to no longer exist. The sculpture was removed by the Art Teacher of the day in the late 60s/70s and replaced with a creation by him and the children of his class. There are no photo's of this sculpture but I would have thought to place the children's work alongside or opposite one of the great artists of the day would have been preferable to replacing it. Although there's no record of its removal so it could have been done by the council who commissioned it, in which case they wouldn't have had much of a say in the matter. I've done some extensive research on this and what happened to the original is very difficult to pin down. I would like to think it still exists and hasn't been melted down; I will continue to look for what happened to it.
This brings us firmly into the 1960s. Elisabeth was signed to a major London Gallery, had several successful commissions dotted around the country, was teaching at the Chelsea Art School and St Martins College of Art. Her work was no longer a prospect, it was becoming a staple of British Art. The sixties were very good for Elisabeth.
In 1962 she received a commission for a sculpture for Manchester airport, to commemorate the Alcock and Brown Transatlantic flight in 1919, which was a landmark in world aviation. Frink made a flying male figure laid flat with wings spread and body twisted. However, she took the artistic license to make the male figure nude. This caused quite a stir when it was unveiled. Some of the crowd booed and others walked away in disgust. One of the families of Alcock and Brown approached Elisabeth and proclaimed "Disgusting", "Why is he nude?" Elisabeth tried to explain her thinking behind the image and that she didn't just want to do another old man fully clothed, she wanted freedom within the piece. The Granddaughter turned on her heels and walked away without another word. Elisabeth would laugh years later and admit that she knew it would be controversial when she did it. The Statue has been moved several times in its life, It was moved from the terminal's arrivals hall to a garden next to the airport police station and then brought into a departure lounge area. As of 2017, its last known location has been in a connecting corridor between Terminal 1 and the airport's train station.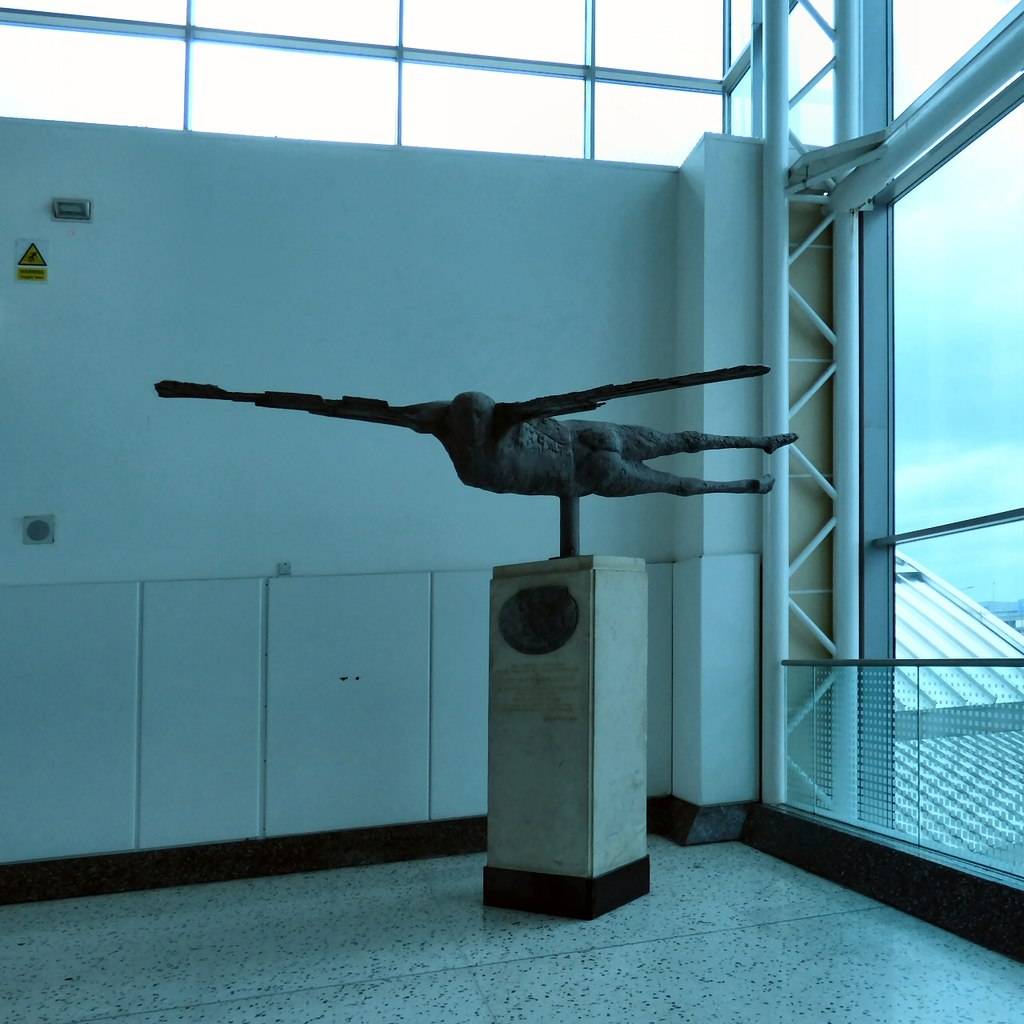 © Copyright Gerald England and licensed for reuse under this Creative Commons Licence.
Over the next few years, Elisabeth completed commissions for the Ulster Bank in Ireland, Coventry Cathedral, and many more. She showed in New York and had multiple shows in London and around the UK. Things were going well but trouble was brewing at home with Michel. Eight years after getting married Michel and Elisabeth broke up and divorced. Elisabeth would later be pragmatic and self-deprecating in her description of the marriage saying that she was ill-equipped for the married life and that she would prioritise her son over her husband and this led to problems. I have to say that juggling a career as successful as hers, raising a child and being a wife must have been incredibly difficult. You can do all those things but some of them will be less successful than others. Life is a balancing act and sometimes we slip and fall. Although in none of the interviews or accounts I read in the source material for this blog, did I ever see Elisabeth blame someone else for the negative moments in her life, or the break down of any relationship. She didn't just take the high road, she lived on it.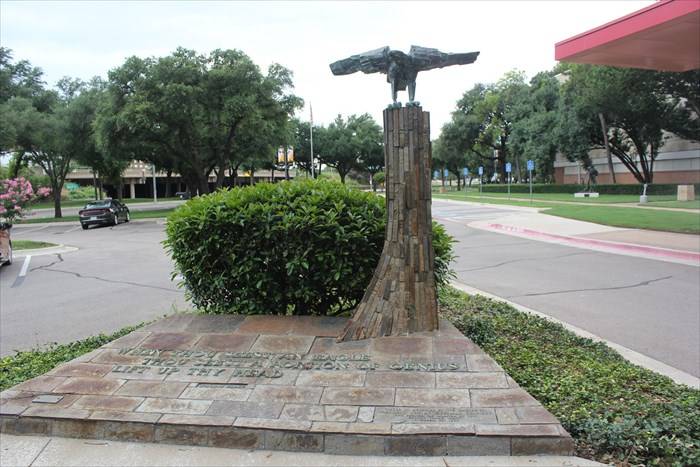 JFK memorial - Dallas market Centre, Dallas, TXS
After her divorce, multiple commissions were agreed over the next few years including an Eagle lectern for the JFK memorial in Dallas in 1964, which being just a few months after his death was a massively important commission to undertake, as America was in mourning at the loss of their charismatic young leader in such brutal and tragic circumstances. She also completed a sculpture for Our Lady of the Wayside in Solihull which was of the Risen Christ. Her next important career decision was to delve into Graphic work. This began with an etching in 1964 for the Royal College of Art titled 'Coriolanus' and was produced in an edition of 50 copies. On the success of this, the following year she produced a series of 8 lithographs with the now legendary printing house Curwen Studios. They were the Spinning Man Series.
In 1964, Elisabeth married again, this time to Edward Poole. He was a War hero ten years her senior (anyone spotting a pattern here?), he was in the Parachute Regiment during the Second World War and lost his leg in Normandy. On June 18th 1944 his regiment was tasked with knocking out a machine gun nest in the Bois de Bavent and he was hit multiple times in the leg, the last bullet pierced a phosphorous grenade he had on his belt and it detonated on his hip. He suffered many weeks of pain and drifted in and out of consciousness. When he fully awoke he was back in England and was without his leg. He was awarded a Military Cross for his inspirational leadership and courage in holding an outpost on the western bridgehead for 21 hours while under constant attack by superior forces. After the war, he went on to run his families meat business although he detested the abattoirs and eventually sold the company. He married and subsequently divorced and then met Elisabeth whom he adored, and asked her to marry him. Edward had a house in France and they would holiday there regularly until they decided to permanently settle there in 1967. They bought a Vinyard in Cevennes and Elisabeth set up a Studio on the grounds and continued her work.
Her time in France is marked by the beginning of a series of work of tremendous importance for Elisabeth, her Goggleheads.
In 1967 she saw an image in the newspaper of Ben Oufkir who was an Algerian General fighting against the Algerian Freedom Fighters, the story was of the atrocities committed by Oufkir and his alleged Murder of the leader of the Freedom Fighters Ben Barka. Next to the story was an image of him in a traditional headdress with a pair of sunglasses. Elisabeth felt the image was a dark and sinister one and the glasses added an element of uncertainty as to what was behind them, what was the true intentions of this man who shielded his eyes? It was an inspirational moment for her as she embarked on a series of works which would go down as her most recognisable and sought after sculptures, known as the 'Goggleheads'. The smooth headed male busts with polished glasses are in national collections all over the world and are in some very lucky private collections.
The hugely successful decade of the 1960s came to a close for Elisabeth with her 1969 award of a CBE for her services to the arts. This accolade would be followed two years later in 1971 when she was elected Associate of the Royal Academy of Art. This was also the same year that he showed for the first time in the RA summer show.
By 1973 she had been living for six years in France and she pined for London. Friends such as Mary Fedden and Julian Trevelyan had come to visit her in their countryside home, in fact theres a great article with Elisabeth's son Lin on the internet which goes quite in depth about this period of time. In spite of these visits and her regular returns to London for work, Frink couldn't help but feel that she had become disconnected from the London Art scene, her friends, and other artists. Although, in true artist fashion she had found French artists (mostly painters) nearby to work with, and became friends with them. As much as she had enjoyed France, this French provincial lifestyle wasn't keeping her on the cutting edge of the Global Art World. Edward didn't want to return to London so this was the end of her second marriage, it lasted nine years.
This brings this part of the Elisabeth Frink Story to an end. I shall continue next week moving into the late 1970s and 80s.
Images are not our own and are from various sources - links supplied.
All opinions are my own and not De Lacey Fine Art's or any other company or body.
Elisabeth Frink - Life in Bronze Part II Copyright - G Farmer 2019