A lot is going on around the world right now, and the art world is no different. Let's take a look at the latest happenings around the globe.
NORWAY'S Y-BLOCK BUILDING CONTROVERSY
Norway is not a country that makes the headlines very often on the world stage, that being said, it's a country with a rich heritage and cultural importance. So why was it in the art headlines this week? As city centres do away with older architecture in favour of sustainable and ecofriendly edifices, a lot of culturally important artwork is also being lost. Norway has stepped on a landmine with their proposal to demolish a building in Oslo, known as the Y-Block building. The reason this building holds significant cultural importance on a global scale is that attached to the side of it is a huge mural created by Pablo Picasso and Carl Nesjar. The mural was created in the 1950s and whilst Picasso and Nesjar would seem an unlikely pairing, the two shared a fruitful and amicable relationship which lasted decades and produced over thirty collaborations.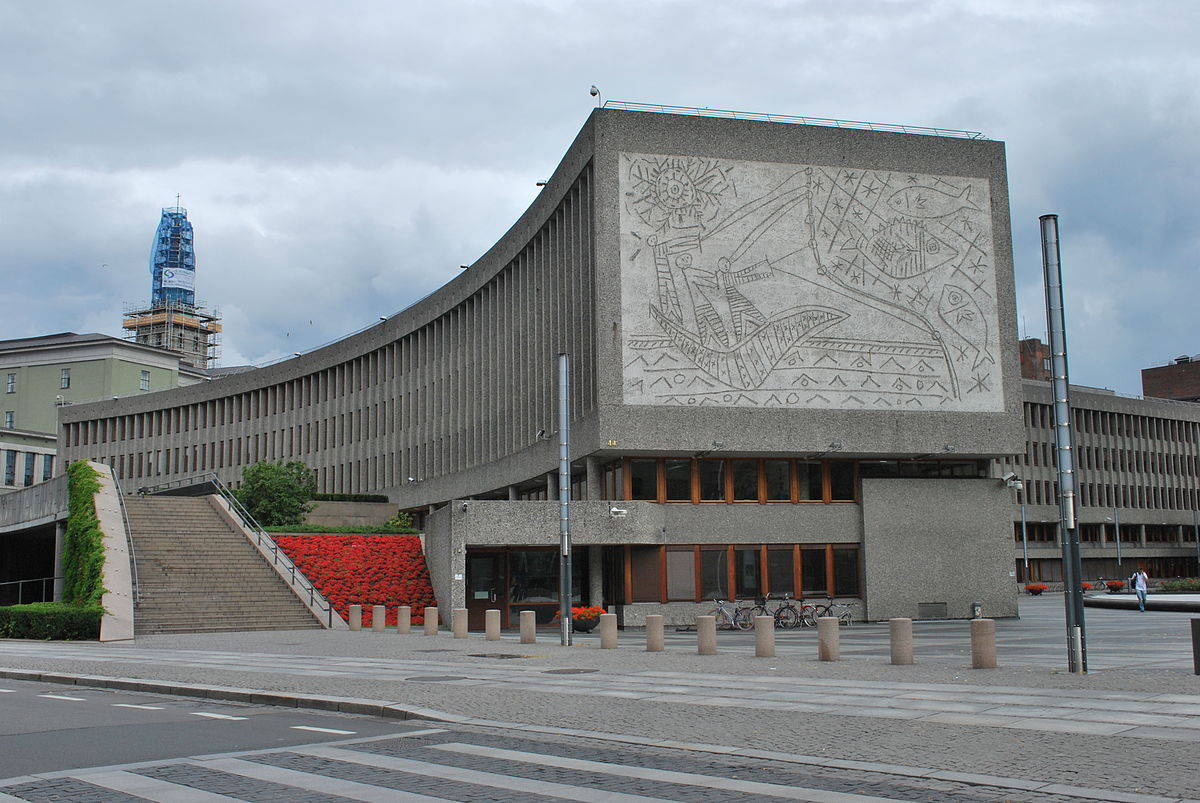 This file is licensed under the Creative Commons Attribution-Share Alike 3.0 Unported license. Helge Høifødt / CC BY-SA (https://creativecommons.org/licenses/by-sa/3.0)
The New York Museum of Modern Art has sent a letter to the Norwegian Government in an attempt to find a reprieve for the seemingly doomed edifice and Mural. The main issue is that the demolition of the building is being undertaken by a specialist company, however, no specialist conservator has been employed or consulted for the removal of the Mural which could prove disastrous. The artworld is begging the Norwegian government to treat the artwork with the appropriate care it deserves. Whether these voices will be heard or not, is still very much up in the air. All we can hope at this point is that they see sense and make the necessary changes to protect this very important piece of art.
It's always fascinating when science and art meet, and this past week we saw a great example of that in the unmasking of the great renaissance painter Raffaelo Sanzio otherwise known as Raphael. In 1520 the great painter passed away after contracting a fever, he was 37 years old. He was buried in a shared plot along with some of his students and followers. When his body was exhumed in 1833 it was unclear which of the various remains were his. A cast was taken of each of the skulls in the communal grave and only now at the University of Rome has it been confirmed which remains were the great masters. Not by DNA or anything as complex as that, but with a new computer program which reconstructs facial images from a skull. The results have been matched to portraits of the artist and it is now confirmed that they have the correct remains for Raphael. Whilst it was popularly believed that he died of Syphilis, it has again been scientifically confirmed that he most likely died of Bloodletting from flu or Pneumonia. The practise of bloodletting was common during his lifetime and the loss of blood would most likely have weakened him further and exacerbated his condition.
You can see in this Youtube video the finished image. You may also notice that Raphael seems to have reduced his nose in size in his famous self protrait, which is also shown in the video.
ART WORLD PAIN - POST COVID-19
There have been many casualties during the worldwide pandemic, the first and foremost are the 500,000 plus people who lost their lives and the countless millions more who survived the most deadly effects of the virus, only to find recovery an uphill battle. Many people who have survived the virus have been described as "no longer the same person" as they have to adjust to life-changing injuries and continuing ailments. Our businesses in the UK have been changed forever by the virus and I can see in Manchester the raft of closed shops, coffee houses and restaurants which sit empty after the four-month hiatus from trading, many of which never came back, and more which have attempted to continue only to find it nigh on impossible. The art industry has been greatly affected also. Major institutions in America are laying off staff in an attempt to save their organisations from closure. Just this past week, the Met in New York made 79 staff members redundant, the Philidelphia museum laid off 85 staff, Pace Gallery in New York also laid off 20 staff members who were due to return from Furlough. It's not just Galleries who are struggling, Auction houses have seen a 79% fall in revenue over the last two quarters.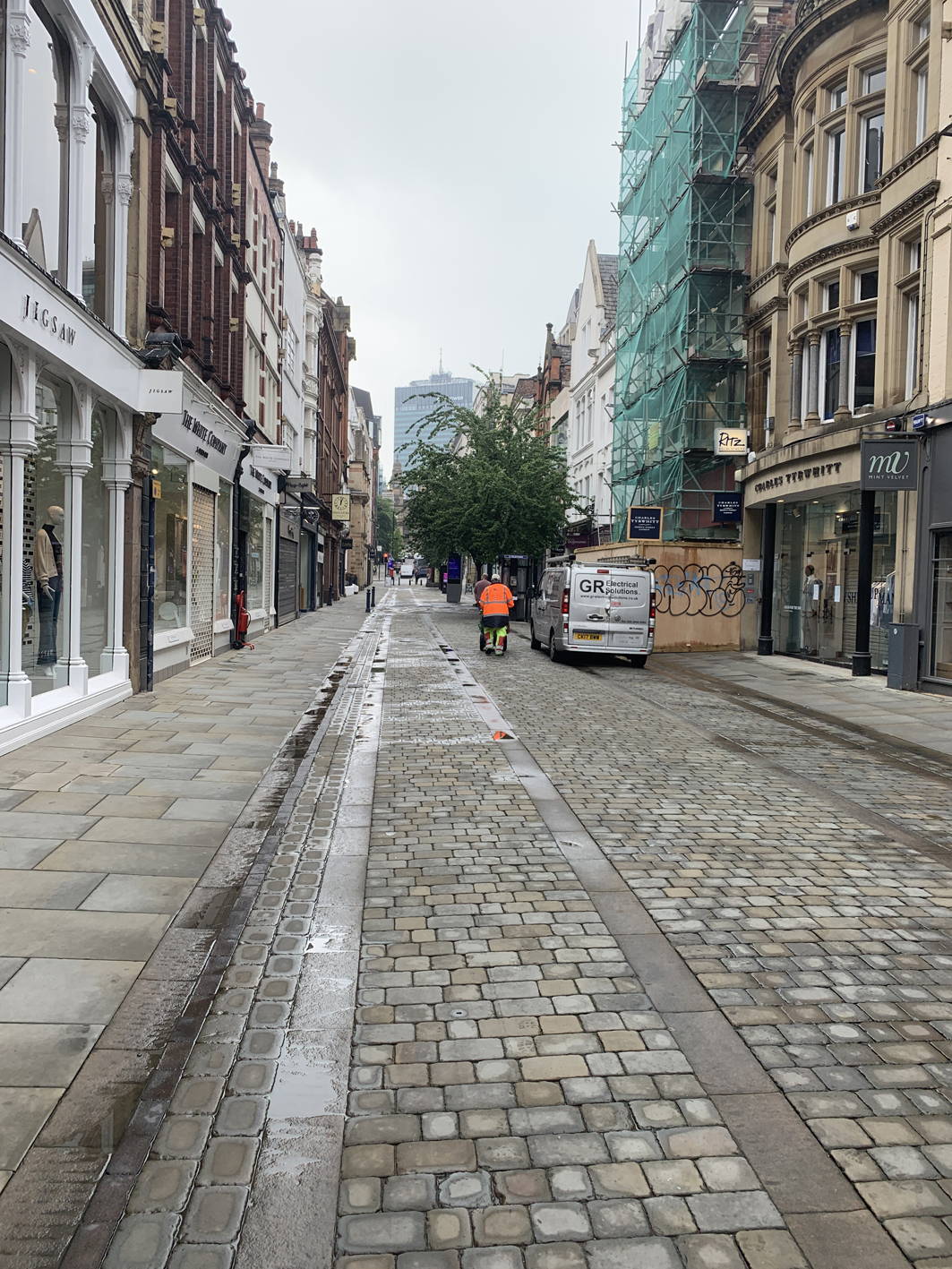 King Street Manchester, Post Covid-19
More and more Galleries are closing their doors all the time. Just last month one of the worlds biggest galleries Marlborough Fine Art closed its New York gallery and released a statement saying they were reviewing their other locations. Art fairs are showing no sign of returning anytime soon, and the list goes on. Also, my thoughts are with the galleries in Beirut who lost many important works and will need huge rebuilding efforts to get their properties and exhibitions back to normal after the explosion which devastated the city last week.
WHAT'S A TOE OR THREE BETWEEN FRIENDS?
Last week saw another - "you wouldn't believe it if it wasn't captured on film" moment when an Australian tourist sat on a plaster model of Canova's 19th-century marble sculpture Pauline Bonaparte as Venus Victrix, which is held in the permanent collection of the Galleria Borghese in Rome. The result was three toes of the sculpture being broken off and an important artwork being permanently damaged. The video was uploaded to Facebook and the CNN report on Youtube has been viewed 220,000 times so far. The man has since turned himself in to the local Italian Police and the museum is still undecided whether to press charges or not. As silly an act as it was, I don't think it was intentional, and he has taken responsibility for what he did so hopefully they can find an amicable solution to the situation.
The main lesson is, don't climb over the artwork, no matter how many likes it gets you on social media.
That's all for this week's Art News. I'll try and do more of these types of blogs if they're popular, and most importantly if there are enough interesting stories at the time.
All images are mine unless otherwise stated. All opinions are my own and not De Lacey Fine Art Ltd or any other company or body.
August 2020 Art News - G Farmer 2020 © Copyright