Joe Tilson is an artist I have admired for a long time. His career has spanned both the 20th and 21st Centuries and despite reaching the ripe age of 91, he shows no signs of slowing down.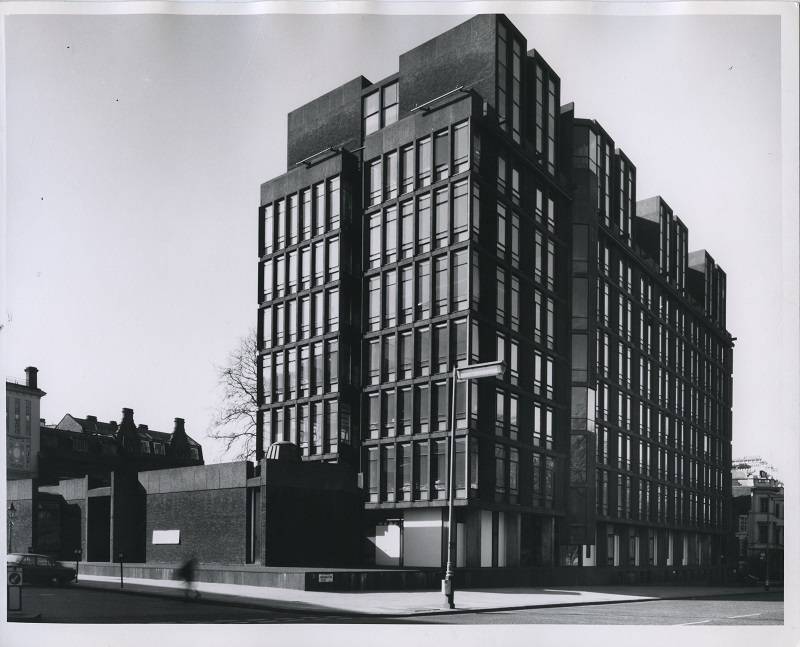 Royal College of Art - Darwin Building, 1963
Born in 1928 Tilson, started life as a cabinet maker, he would attribute these formative years to his love of working with his hands. After serving in the RAF he went on to study at the world-famous St Martins College of Art from 1949 - 1952 alongside such artists as Frank Auerbach and Leon Kossoff.
From 1952 - 1955 he went to the Royal College of art where he met David Hockney, Allen Jones, Peter Blake and many more of the major proponents of the British Pop Art Movement. In his final year at the Royal College, he won the Rome Prize, and part of that award was a year of living and working in Rome.
Winning this prize and travelling to Rome would have a huge effect on Joe and his career, as Italy was very much a part of his life moving forward. Indeed, the great art dealer Alan Cristea has said that Tilson is the most well-known British Artist in Italy, even moreso than David Hockney, Lucien Freud, or Damien Hirst. He would later return to London and teach at St Martins college. Many of the world-famous artists take some years of their careers to teach and this helps them as much as it does the students. They see new things, they stay current with the youth of the moment and they can observe influences, some of which they may have been involved with themselves. This allows the teacher to reflect on art history and influence, but at the same time plot the next step on the journey they are personally taking.
Tilson has worked in many mediums over his career, he has been one of the truly great printmakers in Modern art and has done things with prints that I have never seen before. He treats each print like an event to be celebrated. There is tremendous theatre and colour with every edition he produces. He adds elements like collage to his prints, which must be terribly time-consuming for the printmakers, especially in editions of 75 or 100. He paints on them, he pokes holes through the paper, he tears them, it's everything that makes original prints become something more, something truly unique. Tilson has also worked in 3D with sculpture being a large part of his oeuvre. His multicoloured blocks stacked one upon another hark back to his early career as a cabinet maker and he utilises these skills to make these fantastic pieces of art, which have been very well collected over the years and today can be quite difficult to find.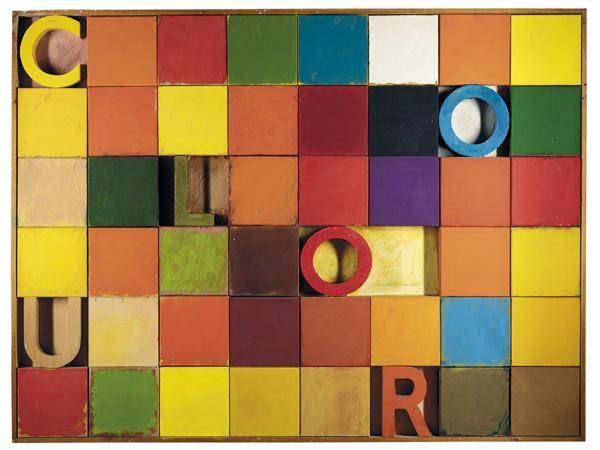 G.E.O.M.E.T.R.Y PUZZLE, 1 - Joe Tilson
polyurethane on wood relief

In the 1970s Tilson became disenchanted with the London Scene, he had failed to see any of the radical political or social changes that he and his contemporaries had hoped for in the 1960s. At this time he decided to make a personal change and move from the city to the Countryside. He split his time between his home in Wiltshire and his house in Tuscany in the famous mountains of Italy.
Tilson's work has involved many themes during his career, but the one that has been his most famous is the Alchera. This follows many articles of symbology and synergy between elements. Earth, Wind, Fire, and Water play a large part, as do ladders, alphabets, and numerology. It's very deep and complex work, but when you understand what he is doing your appreciation increases exponentially. To tackle a theme as deeply rooted in the planet as the elements themselves, takes a massive amount of thought and creativity to bring to life. I could think of no one better suited than Joe Tilson to do it, which he previously has many times.

Joe Tilson's legacy is not one of rule breaking but of tearing the rule book up and then burning it to ashes. You might struggle to think of a 91-year-old as a maverick, but his career has consistently shown this facet, and being the man he is, would most likely shun the moniker as true rebels hate all forms of labels.