The biggest news in the British Art market this week is the ever-popular Banksy and his ongoing battle with a Greetings Card Company which has spawned a strange sideshow. For those of you unaware, Banksy's Trade Mark of his work has been legally challenged by the card company in an attempt to be able to take possession of it and cash in on the street artists name and art. Naturally, Banksy is going to fight the legal challenge and try to retain the rights to his creations.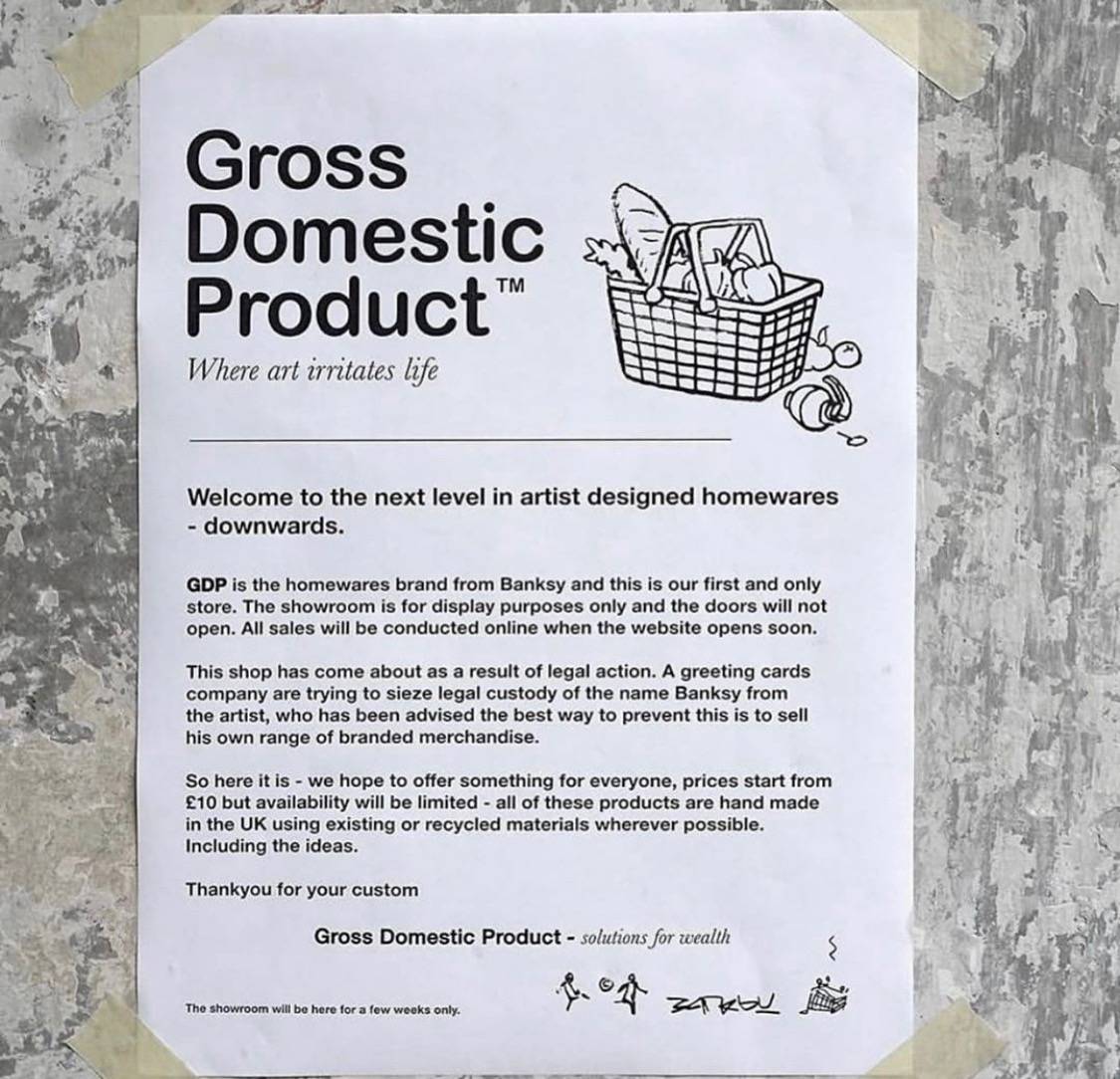 This explination of the store was taped up in different locations. I particularly like the tag line "Where Art irritates life".
Can they do this? is exactly what I thought myself. How can a random company come along and lay claim to the Trade Mark of a living and working artist? Well, the law is pretty clear, it says that "those not using the Trade Mark can have it transferred to someone that will use it". If you're interested in the legality of this subject then here's a link to a very interesting article by legal company Mewburn and Ellis - https://mewburn.com/resource/trade-marks-use-it-or-lose-it/
Unofficial merchandise of Banksy's work isn't anything new, I've seen mugs, keychains, posters, T-shirts and all manner of products that are available on various websites and in shops and all undoubtedly without the artist's consent. In an effort to raise awareness of this situation Banksy has been working on a range of pieces which are designed to cover the conditions of EU law pertaining to the retention of Trade Marks (previously Banksy didn't conform to the criteria of the law, leaving him open to this legal challenge, with his latest pieces he's made sure that he's ticking those boxes).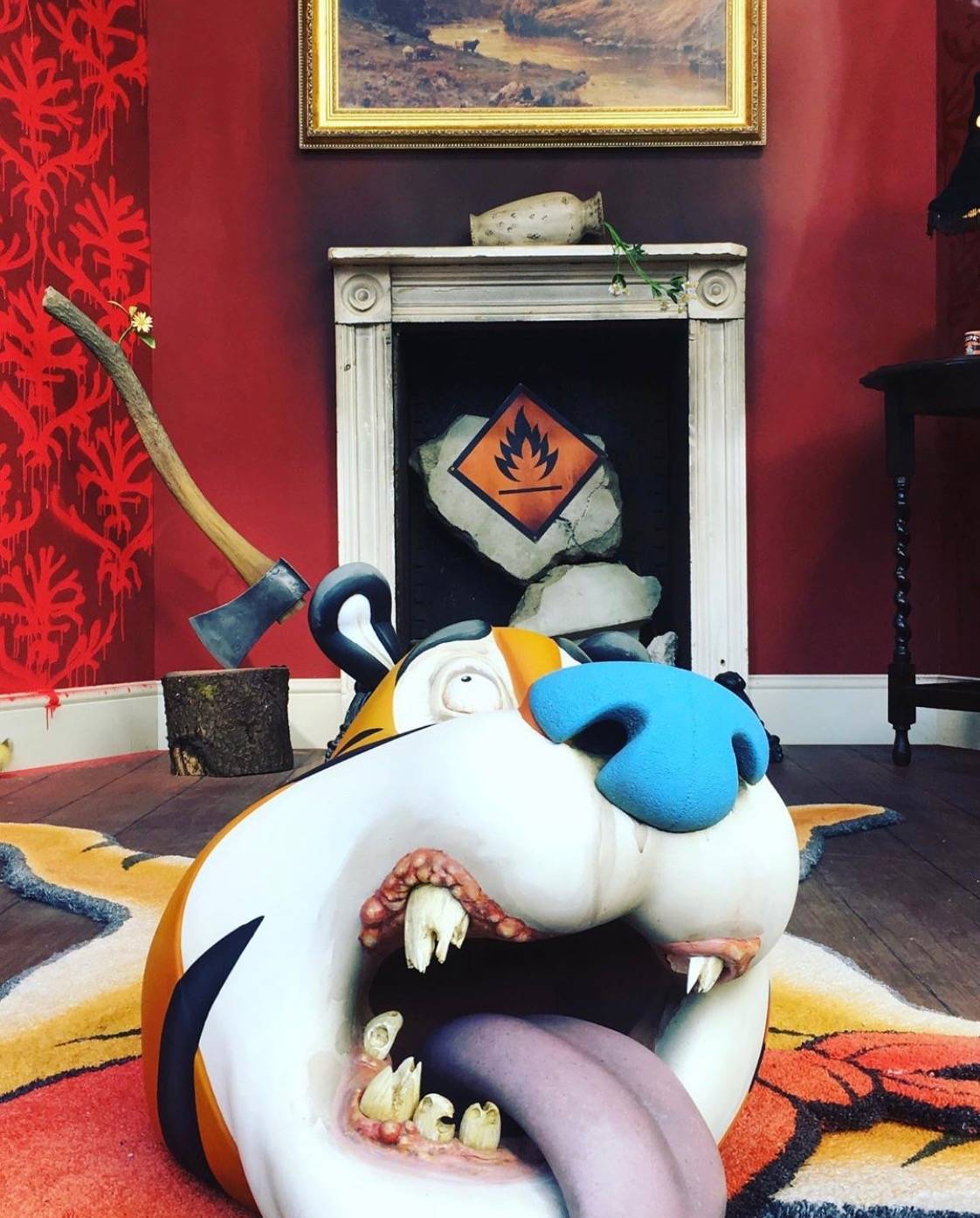 Tony the Tiger floor rug complete with rotted teeth and diabetic coma.
So what do you do when someone wants to take your creative lifes work? You open a shop in South London and call it 'Gross Domestic Product'. You sell tongue in cheek "Merchandise" such as - sofa cushions decorated with the witty slogans we know him for, Police riot helmets turned into glitter balls, children's playsets where you learn to count by loading immigrants into the back of a lorry and other such oddities. This is exactly what Banksy has done this week and who can blame him? It may seem slightly hypocritical to fly in the face of the law for your entire career and then lean on it pretty heavily when you need it to facilitate something going your way. The reality is that for all of his talk of revolution and anti-capitalist posturing there is a man who wants to retain control of his work, and I can't blame him for that. In my view, separating an artist from their work would be a terrible use of this law. On the subject of his South London Boutique, people are gathering there to see the spectacle, but are disappointed that they can't go in and buy things. This is something that can only be done online, although currently the website is just a holding page so who knows what will eventually happen.
Banksy's one and only store in Croydon.
Once again not only does Banksy dominate the headlines but he also has a potentially record-breaking sale lined up this week. His famous painting of Devolved Parliament is going up for sale and is expected to fetch between £1.5 and £2 million. I personally think that this painting is worth every penny of the top estimate and I wouldn't be surprised to see it do much more. After all, the sight of primates littered all through parliament seems more prophetic than satirical in our modern political climate.
From the biggest profile street artist in the U.K. to his transatlantic colleague KAWS. For those of you that don't know who KAWS is then you've been missing out, or haven't been reading my blogs (naughty). KAWS is an international sensation and maybe the reason why Banksy is getting this aggressive legal challenge to his merchandise Trade Mark. You see, where Banksy has a clear line in the sand when it comes to fully selling out and doing anything and everything to make money, KAWS is a little different. In fact just last month I saw a news article flash up on Social Media about teenagers queuing for hours outside a store in Manchester City Centre. Me being the inquisitive type, I decided to find out where it was and what the teenagers were queuing for. I was surprised to find that it was a Clothing retailer and the line was for KAWS branded T-Shirts. So the epidemic of KAWS and his magic touch as a marque of distinction has transcended the art world and become mainstream. However this week, it looks like he may have upset the people of China, by making an image of Chairman Mao as one of his popular graffiti characters. In a display of fury not seen since the Beatles backlash for that Jesus comment in the USA, KAWS merchandise has been burned and destroyed in multiple protests. The situation is so toxic that some retailers with market shares in China have pulled all of KAWS merchandise from their stores. This is a large fall from grace for the artist that floated a 121-foot inflatable toy down a major waterway in Hong Kong which quickly became a firm favourite with the locals.
After this week's unfortunate backlash it seems that KAWS has a lot of bridge mending to do in China.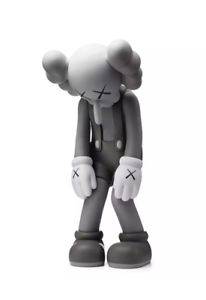 Banksy Breaks his Auction record
As I mentioned earlier in the post, (which was completed before the Auction) Banksy had a much-anticipated sale of one of his paintings, 'Devolved Parliament', the present owners decided it was the right time to sell. They were proved correct. Furious bidding in Sotheby's London saw the top estimate quintuple over 13 minutes, resulting in a new record for one of Banksy's paintings. the Hammer went down at £8,000,000 but with Auction fees etc, we have a total of £9,900,000 being spent to own this remarkable painting. Did they pay too much? Personally it exceeded my expectation of the sale, however, I and many other Art Dealers would argue that the painting has a long way to go and is a good investment for the new owner, even if they had to set a world record to own it.

So what does this mean for Banksy now? His work will see a solid financial increase across the board, his popularity and social media following are as strong as ever so this will only be reinforced by the amount of national and international news the sale will bring. It's only positive for the street artist, even if he plays it down on social media complaining that he doesn't own the painting anymore. Unfortunately, this is the pain of a successful artist, your work takes on a life of its own and becomes a commodity traded among the super-rich and avid collectors alike. We can only hope that the new owners are as generous as the previous and allow the painting to be viewed in National Galleries.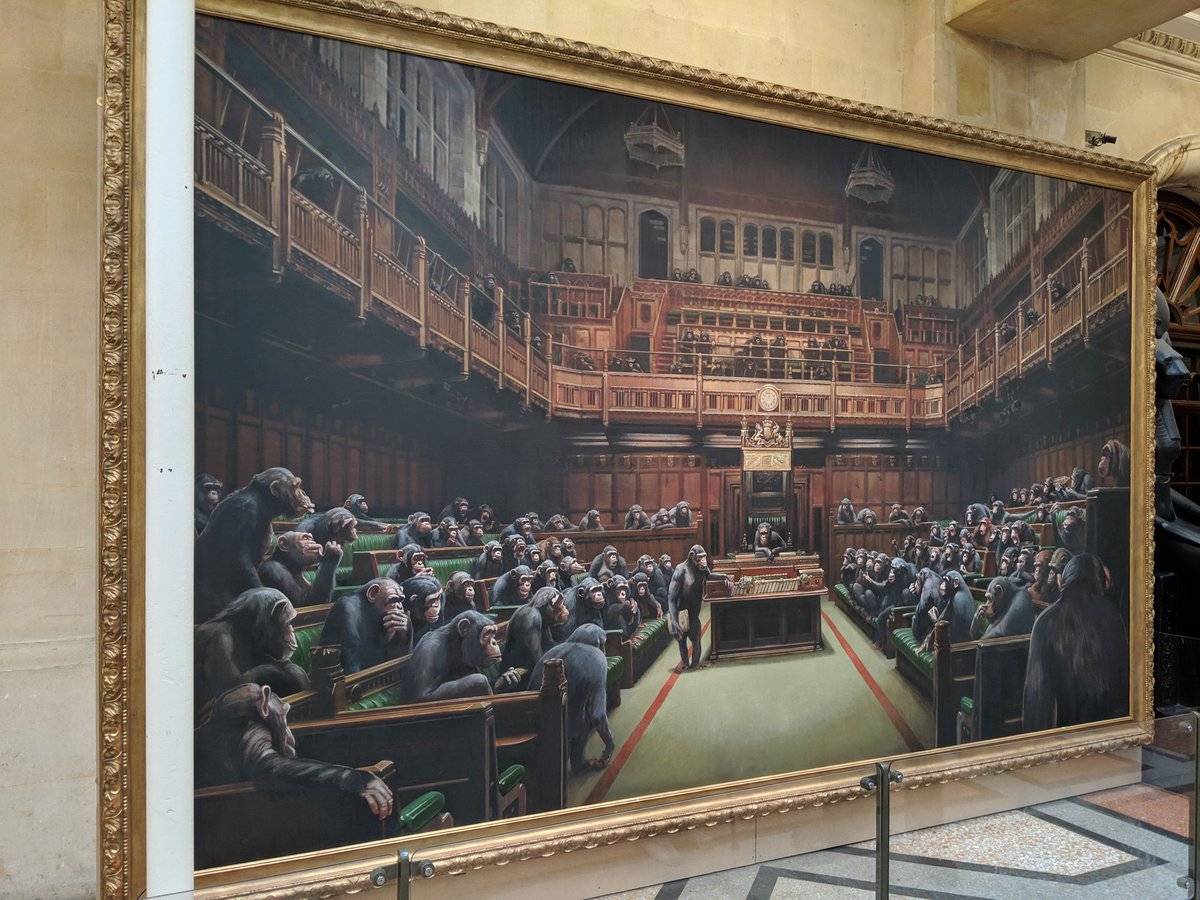 Photo by - Ants Bk On Twitter.